Grief can be felt when a family member or friend close to you has died. Your loss is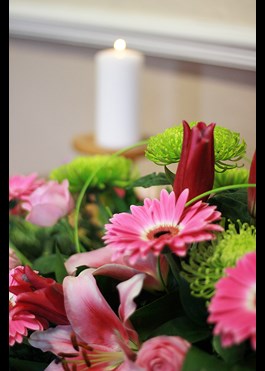 unique and personal to you and everybody copes with it in different ways.
Bereavement can be a traumatic event and many people go through a range of emotions.
You can seek practical help from a funeral director or from your family doctor. Support from solicitors, religious organisations and social care services are also available.
Simply talking to someone sympathetic, who understands what you're going through, can be a big help. This could be a friend or work colleague or it could be a bereavement counsellor whose job it is simply to listen and offer support.
Listed below are some of the charities that help with bereavement. Each has a link to their website for more information.
Work with and support people who have been bereaved. They focus on helping people understand their grief, and cope with their loss. Their services are free. There is a Craven and Bradford District branch who can be contact by telephone 01756 797799.
West Yorkshire and Harrogate Suicide Bereavement Services - www.wyhsbs.org.uk
Providing practical and emotional support for adults after a suicide of someone they care about in Craven, Harrogate and West Yorkshire, 0113 3055800.
Are a national charity focused on helping and supporting the elderly. They offer practical advice on what you need to do when someone close to you dies. They can also help you find out how to register a death, arrange a funeral and sort out financial matters.
Offer confidential, non-judgmental support through a telephone help line 08457 90 90 90. The line is available 365 days a year, 24 hours a day, and offers help for people who are experiencing severe distress or despair. It also supports people through emails, letters and face-to-face meetings.
SANDS (Stillbirth and Neonatal Deaths Charity) - www.sands.org.uk
Help provide free support for anyone who has suffered the loss of a baby. They aim at improving bereavement care received by parents and families and help influence the policy makers by promoting research. Free support is provided through their national helpline 0801 164 3332, forums and network of support groups.
They aim to help anyone who has suffered a miscarriage, molar pregnancy or ectopic pregnancy. Their helpline number is 01924 200799 open Monday to Friday 9:00am – 4:00pm
---
Social Funds
You may be eligible to receive a Funeral Expenses Payment (also called Funeral Payment). But only if you receive certain benefits and need it to help pay for a funeral you're arranging. Please visit https://www.gov.uk/funeral-payments for more information.