---
As the Government's Covid-19 restrictions and guidelines change, we will review the restrictions in place at the Crematorium and Cemetery and the amount of mourners we can accommodate within the chapel for cremation and burial services.
The capacity within the chapel is currently 15 attendees in order to comply with the governments 2 metre social distancing. We are further permitting 15 attendees outside the chapel. Allowing 30 attendees to a service.  
We kindly ask that you still adhere to guidance regarding social distancing, please do not attend if you are showing any signs of Covid 19.
Our webcasting service, which is available up to 28 days after the service, is available for all chapel services, please contact the family and their Funeral Director for more information.
Our Book of Remembrance Chapel is open as usual. 
We sincerely apologise for any distress this will cause however, we have a duty of care to everyone attending our services and the staff working at the crematorium.
From January 2021, the amount of mourners attending a commemorative event, such as scattering/interment of ashes or a wake, has been decreased to six persons, all of whom must social distance correctly and follow the correct legislation. Families visiting their loved ones' resting places within our cemeteries must abide by the 'rule of six' regulations. 
Government guidance confirms that people living within a very high category area are able to travel to a funeral within a different Covid alert level.
Craven District Council's Bereavement Services can be contacted on 01756 796118 or bereavementservices@cravendc.gov.uk
bereavementservices@cravendc.gov.uk
---
Waltonwrays Cemetery covers 11 hectares of land and was opened with its first nurial on 5th February 1877. 
Waltonwrays Cemetery incorporates Skipton Crematorium, the Book of Remembrance Chapel, Gardens of Remembrance along with different memorialisation options.
The cemetery is located on Carleton Road, Skipton, BD23 3BT, and is open 365 days a year.
---
Car Parking
Parking is available in front of the Remembrance Chapel, the main drive is wide enough for cars to park down one side and there is also parking as you enter the main gates of the cemetery on the right and left. Overflow parking is available on Carleton Road.
Toilets
There are toilets available in the Waiting Room in the Book of Remembrance Chapel which include disabled and baby changing facilities.
---
Burials
The first burial service can take place at Waltonwrays at 9:10am and the last at 3:00pm, Monday to Friday. Weekends are available on request, Saturdays only. Each slot is 40 minutes including 10 minutes to arrive and exit.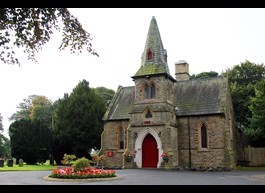 You can have a full Funeral Service in the Crematorium Chapel or you can have the main service in a church and have a short committal at the grave side.
See out page Crematorium Chapel and Remembrance Chapel for more information about the chapel facilities.
Staff members will ensure that the grave is maintained after the interment and the funeral flowers are left neatly on the top of the grave. 
---
Purchasing a Grave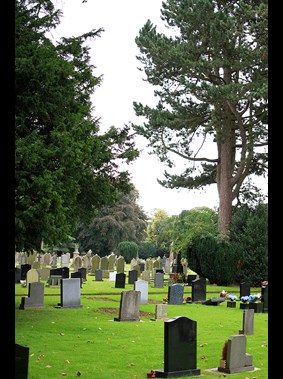 If you are wishing to purchase a grave or would like to look around the cemetery to see what we have you can call into our office at any time Monday to Friday 08:30-16:30 and one of our colleagues will be happy to walk you round the Cemetery.
The Exclusive Right of Burial in Waltonwrays and Ingleton can be purchased for a period of 30 or 60 years, with an interment fee payable at the time of use.
Our graves in Waltonwrays Cemetery are typically earth graves for up to 3 coffins but we do have bricked graves and vaults available. The graves can also accommodate up to 8 sets of cremated remains. It must be noted that once cremated remains have been interred it will close off the grave to future full burials.
For more advice and information on purchasing a grave please see our booklet. A copy of which can also be found at the Crematorium Office.
---
Map of Waltonwrays Cemetery
Click here to view a map of the cemetery
---
Memorials
Here at Waltonwrays and Ingleton we encourage unique and individual memorials to suit your loved ones. We have a range of Monumental Masons who are registered with us, who have a variety of designs and different stones to choose from or you can choose a memorial mason of your choice (subject to them meeting our requirements).
For more information about erecting memorials you can contact our office and speak to a member of staff. Or you can view our Rules and Regulations document associated with Memorials.  
Our office is open 8:30am – 4:30pm Monday to Friday.
---
Family History Research
Please see our page Burial and Cremation Records for information on conducting family history search.