A special prize evening was held at The Coniston Hotel on 29 October 2015 to celebrate the outstanding achievements of Craven's communities. The awards ceremony paid accolade to some amazing people who work hard to help make Craven special.  The Awards have been made possible with the kind support of our sponsors, including our Associate Sponsor for the fourth year - Cirteq, they are one of the leading manufacturers of circlips in the world.
Films of the winners and the shortlisted were shown at the event, and can now be viewed on Craven District Council youtube channel.
CCCA 2015 Winners with the award sponsors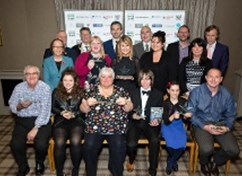 TEAM KETCHUP - WINNER OF THE ART AND CULTURE AWARD (Sponsored by
 

Peel Entertainment)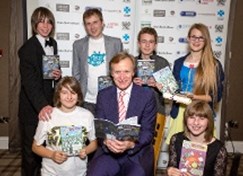 In the two years since Team Ketchup began, they have produced and published two comics and successfully sold both editions to the public. At the launch of their first issue, a free comic-jam was held in Skipton Library, when over 120 children and adults created their own comics. The group has grown in strength and skills, and created a unique comic for Skipton's Sheep Day - which was exhibited on a stall on the High Street, with the children selling and promoting their own creation. The comic-jam in the library was attended by over 170 people. Team Ketchup are now running Project Comic-Swap.
Runners up:
Skipton Community Orchestra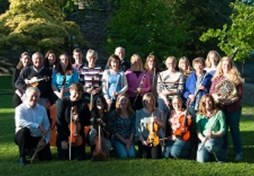 Virpi Kettu
SCOFF CAFE - WINNER OF THE BEST COMMUNITY GROUP (Sponsored by
 

Keelham Farm Shop)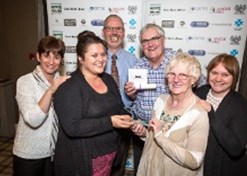 Seven volunteers have worked extremely hard to establish a weekly community café called Scoff at the Greatwood and Horseclose Community Centre. The café serves delicious and healthy home-cooked food every Wednesday and has encouraged lots of socially isolated residents from the local area to use the community centre on a regular basis. The café has been a great success and has sold out its menu every single week. Many people who come to the café are really pleased the cafe is open as it gives them a chance to get out and about. All of the volunteers provide a very friendly service to help people to get to know one another and encourage residents to get involved with other activities that are running in the area.
Runners up:
Grassington Hub and Community Library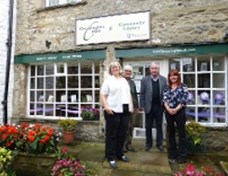 Horton Community Cafe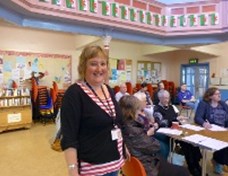 The Year 5 children from Embsay CE Primary School have championed Fairtrade, sustainable living and environmental improvement within the school grounds and in the village community for the past five years. During that time and due to their efforts the school has gained Fairtrade status, Bronze and Silver Eco-schools awards and an ingenious rocket food waste system. The rocket food waste composter is able to recycle food waste and produce compost for the school garden. They have also held a Farmers' Market which included stalls selling local produce and the children produced soup bags containing vegetables grown in the school garden and a recipe.
Runners up:
Chris Cowgill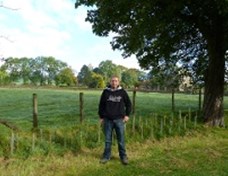 Sarah de Nurtcheylo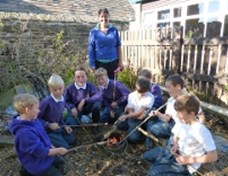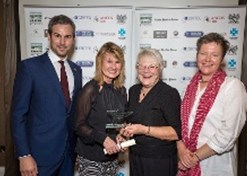 Clapham Community Shop was formed in July 2014 with the aim of re-opening the village store as a community-owned business. It currently has a volunteer management committee of seven local residents. Around thirty volunteers help with the day-to-day running of the shop, and there are around 165 shareholders. Developing the shop proposal, raising start-up funds, and now running the shop has brought the whole village together. It has improved residents' quality of life and it's widely agreed that the shop is a real asset for the village. The shop has generated new employment opportunities, and is well stocked with over 1,500 product lines. Where possible, products are sourced locally so as to support local providers. As well as providing and sustaining an attractive village store, an objective of the group is to reinvest profits in local community projects though a small grants scheme using profits not required to sustain the business.
Runner up:
Just Ask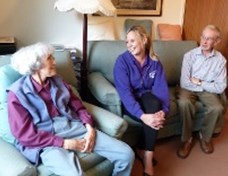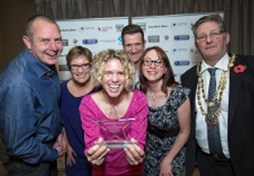 The Craven Energy Club formed just over five years ago to offer the sport of triathlon and multi-sports to people in the Craven District. They are a small, friendly club running regular training sessions catering for complete beginners through to experienced athletes. Membership of the club has grown to over 200 members, and includes a junior section. Craven Energy organise an annual sell out Junior Triathlon in Aireville Park in September, and they recently ran a Go Tri event for those new to triathlon to encourage people to give the sport a try. In total the club runs nine weekly sessions for club members across the swim/run/cycle disciplines. A number of club members have become qualified coaches in order to support the club's activities. On top of this the club members support each other in taking part in several triathlons and multi-sport races across the year, ranging from novice participants up to elite level.
Runner up:
Richard Webster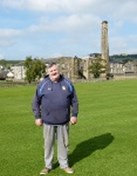 SYLVIA MERRETT - WINNER OF VOLUNTEER OF THE YEAR AWARD (Sponsored by Broughton Hall Estate)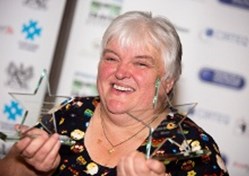 Sylvia has been a long time member of the Craven community and voluntary sector, in particular as Chair of the Craven Mental Health Forum. Since taking up this role she has rejuvenated the forum ensuring its continued relevance in today's climate. Sylvia has gone over and above the role of Chair by building a Craven Mental Health forum website and a Facebook page thereby improving access to current information. In addition Sylvia has also established a regular email bulletin service, sending information to forum members and the wider community by linking to other organisation mailing lists. In addition, Sylvia is an active supporter of the Settle Soup initiative, and a member of the board of trustees of Craven CVS.
Runners up:
Pat Mollitt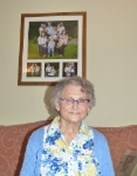 Jack Morgan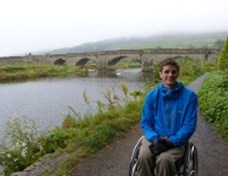 Eleanor is a very enthusiastic young leader at Skipton Juniors FC; she coaches the younger teams on a regular basis where she is looked up to by the young players and other young leaders for her passionate, committed and enthusiastic style when coaching. Eleanor has also been involved with refereeing junior football where she has assisted with the West Riding Girls Football League to deliver under 8s girls' football festivals. Eleanor attends South Craven School and helps out with the delivery of a wide range of sporting events in school as well as assisting in other areas of the local community such as Skipton Rugby Club and Lothersdale Primary School.
Runner up:
Zara Salim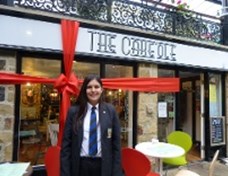 CRAVEN YOUTH COUNCIL  - WINNER OF THE DIGITAL INNOVATION IN THE COMMUNITY AWARD (Sponsored by ilovebroadband)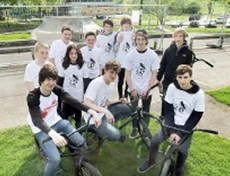 Craven Youth Council utilised a variety of technologies to campaign for a new skatepark. The group produced an extremely high quality and thought provoking film to explain the history of the skatepark, why it was so important to the youth community and why a new one was so desperately needed. The film generated a real sense of community spirit by helping older people to understand why the skatepark was required. They also gathered over 500 followers on their Save Aireville Skatepark Facebook page which meant that people could get involved and have their say right throughout the project, from what equipment they wanted to be included, to choosing a design that met the needs of all age groups and wheel sports.
Runner up:
Vibrant Settle Community Partnership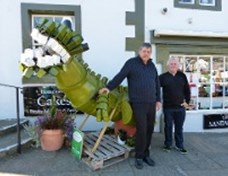 SYLVIA MERRETT -  WINNER OF THE CITIZEN OF THE YEAR AWARD (Sponsored by
 

Yorkshire Housing)

The Citizen of the Year Award is an individual who has made an outstanding contribution to Craven during the past year, and Sylvia was selected as winner from the winners of all the other categories by the judges.

 
Craven Community Champion Awards 2015 videos
Craven District Council produced short films of all the Craven Community Champion Awards 2015 winners and runners up
Watch the inspirational community champions winners and runners up talk about their work to make a difference in Craven.
All the films are currently being uploaded, and you will be able to watch them on the Craven District Council youtube channel  shortly.
The first few are below:
Best Community Group (Shortlisted)
Volunteer of the Year (Winner) 
Art and Culture (Winner)