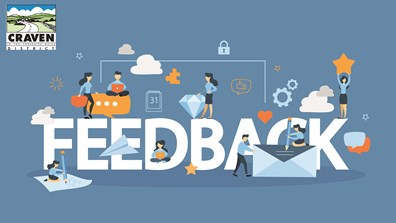 If you sign up to become a member of the Craven District Council Residents' Feedback Panel, we will contact you regularly and ask for your opinion on issues such as the environment, the council budget, waste collections, planning and local amenities. Giving your opinions might involve different activities such as filling in a questionnaire or taking part in a focus group.
Your views do count!
It is in response to your feedback that we introduced kerbside plastic bottle recycling and your views will inform plans for future housing, leisure and business development in the district.
There is no obligation for you to respond about every issue but, if it matters to you, we would like to know what you think. Your views will help us to provide services which are informed by local people.
Sign up
We will only contact you when we are consulting on a particular policy or issue.
If you wish to become a member of the Residents' Feedback Panel please CLICK HERE and enter your details. 
If you would prefer to receive your Residents' Feedback Panel communications in the post, please email the Communications team at comms@cravendc.gov.uk