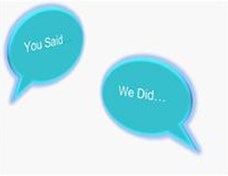 You can also find feedback from all of our previous consultations dating back to 2011 in our consultation archives at the bottom of this page.
To keep up to date with all of the latest consultation news and feedback, you can sign up to receive our e-newsletter Community News newsletter or join us on Twitter and Facebook.
---
Local Plan
14 October 2019 - The Inspector's final report has now been issued. This brings the Examination to a close.
All the relevant documents and information can be viewed on our website here. 
---
Craven Museum and Gallery
The museum is being developed (with the support of the Heritage Lottery Fund) to include a new permanent exhibition ('Stories and Treasures of Street and Dale') activities and events that share the stories of the Dales and make the museum a fun and engaging place to visit. Consultation took place with a number of community groups, visitors and residents and the information gathered fed directly into our funding submission to the Heritage Lottery Fund. 
---
Draft Taxi Licensing Policy consultation
A new taxi licensing policy has been written to strengthen the licensing regime and give applicants and licence holders a much more detailed overview of their responsibilities either when making an application or when licensed. The main aim of the new policy is to ensure that Craven has a robust policy in place designed to safeguard the travelling public who use the taxi trade and ensure that we can say that the taxi trade in Craven is one of the best in the country when it comes to being ambassadors for the District.
A consultation on the draft policy was carried out in 2017. The new Taxi Licensing Policy has now been approved and can be found by clicking here.
---
Public Spaces Protection Order consultation
Craven District Council consulted on the proposal to implement a Public Spaces Protection order (PSPO) for the High Street Car Park in Skipton. PSPOs were introduced as part of a range of measures in the Anti-Social Behaviour Crime and Policing Act 2014, and are intended to stop individuals or groups committing anti-social behaviour in a public place.
Following the consultation, the Public Spaces Protection Order was implemented in the High Street Car Park in Skipton in November 2017. For more information please click here.
---
Aireville Park play area consultation (closed on November 28, 2016)
The council consulted on proposals for a new children's play area in Aireville Park, Skipton.
The results of the consultation can be found here: Aireville Park consultation results [306kb]
As a consequence of the consultation, plans for the new play area at Aireville Park were refined and finalised. £12,000 has already been raised for a zip wire in the park and the council and the Friends of Aireville Park are working on further fundraising plans.
---
Craven Homelessness Review 2014/2015
Our Homelessness Strategy 2015/20 is based on evidence derived from the homelessness review carried out during 2014/15.  Craven Homelessness Review & Strategy 2015/20 [1Mb]   Appendix B Consultation Results [1Mb]  Our Strategy's three priorities are:  Reducing Homelessness,  Improving the quality and accessibility of housing services,  and Increase the range and quality of temporary and supported accommodation options.
---
Riverside Park, Ingleton - (Closed 15th June 2015)
Craven District Council and partners (Ingleton Parish Council, Ingleton Trades peoples' Association and Ingleton Rural Community Association) as part of The Ingleton Village Centre Action Plan, are looking at ways to optimise the potential of Riverside Park, and are sought the of residents and park users views on the park and its future. What people think about Riverside park [331kb]
---
Craven Cleaner, Safer and Greener Strategy 2015-2021 - (Closed 16th June 2015)
We asked for views on the directions of the Craven Cleaner, Safer and Greener Strategy 2015-2021.  The strategy will set out how we deal with Anti - Social Behaviour, Crime and Safety, Dog Fouling, Dogs Roaming, Littering and Fly Tipping, Domestic Smoke and Odour, General Nuisance and Domestic Noise Nuisance. We need community support to deliver the strategy, and we want to develop a "Craven Cleaner, Safer and Greener Charter" . The charter will be a voluntary agreement which sets out the mutual rights, responsibilities and expectations between residents, the Council and other service providers for creating Cleaner, Safer and Greener neighbourhoods.   The strategy is being developed, and will be published later this year.
---
Review of Statement of Principles under the Gambling Act 2005 - (Closed 17th June 2015)
We are required to prepare and publish every 3 years a Statement of Principles, which outlines how we undertake our responsibilities under The Gambling Act 2005. There has been no significant changes to regulations or guidance in the last 3 years and therefore we proposed that the Statement of Principles will remain unchanged for the years 2016-2019. Draft Statement of Principles [251kb]  There were no replies to the consultation, and so the Statement of Principles will remain unchanged for the next three years.
---