Information on Group exercise classes at Craven Leisure.
Group Ex Studio and pool classes -
updated February 2023
Pool Classes - **NEW Hydro Jog trial class starts Wednesday 22nd February 8am-8.45am in the small pool**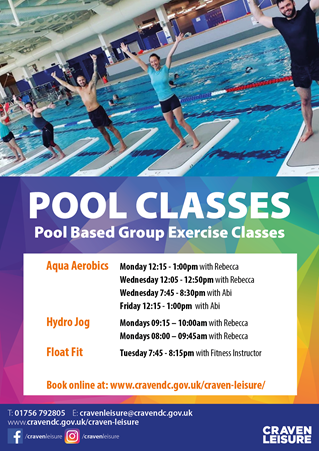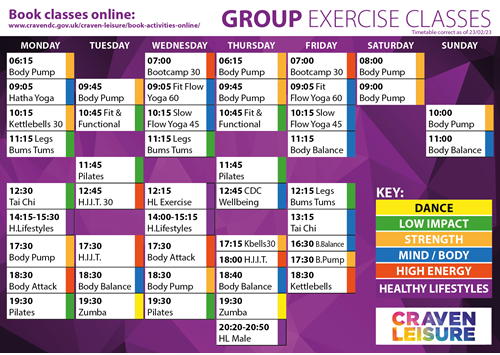 Download Indoor Cycle Timetable
*Virtual evening classes now changed to 7:30pm start from 7:15pm (Virtual classes are all 30-45minutes long)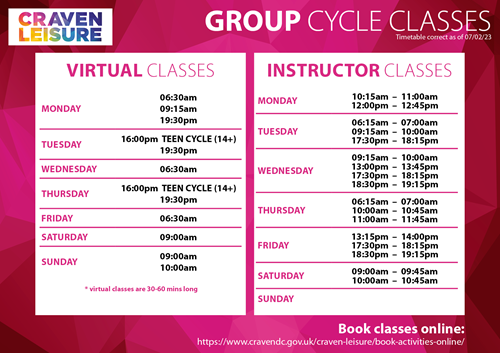 All classes must be pre-booked online. (see below)
Book your Exercise Class 
✔️NEW! Air purifiers installed in our main studio, group cycle studio and gym to reduce covid -19,  airborne germs /allergens and odors
✔️ We still have the option for you sanitise your hands and do a temperature check on arrival in main reception foyer
✔️ Please still "do your bit, clean your kit" – wiping down equipment after use
✔️  ventilation of areas will remain in place (air handling)
✔️ Heightened cleaning regimes will remain in place
What's changed?
(from 19th July 2021)
✔️ You can now access the facility freely ahead of activities
✔️ We require all members to scan your membership card on arrival
✔️ Changing areas/cubicles/lockers are open fully
✔️ Increased numbers across all sessions
✔️ Members can now book up to a maximum of 7 group exercise classes every rolling 7 days.
✔️ Fitness classes remain as pre- bookable online to secure your place.
✔️Class waiting list is cleared 30minutes before class start time.
All measures will be reviewed regularly and changes will be made where necessary and when safe to do so.
Classes are pre-bookable up to 3 days in advance at the time of the class.  
The class capacities will be reviewed regularly.  Minimum numbers are required to run classes and may be removed form the timetable with limited notice.
We have created the ability for you to pre-book online. 
Just select Make a Booking on the book activities web page on Craven Leisure website then press Group Exercise-or Class Timetable then pick the available classes and select Add to basket then tick to agree to the terms & conditions for bookings - and finally press confirm booking. 
You will then receive a message Thank you your booking is now complete. 
You will also receive a booking confirmation by email. 
Please ensure you check that you have email confirmation and the booking is in your current bookings before attending
Bookings will be available online from the time of the class, 3 days in advance (see timetable below)
Login to view timetables for studio, cycle and aqua classes below:

---
Before arriving for your Exercise Class
Please do not come to the facility if you are showing any symptoms of Covid-19 (temperature, cough, difficulty breathing, or anosmia - loss of taste or smell).
We will be asking you to arrive no more than 15 minutes before class and log your attendance by swiping your member card on the access gate.
You can now access the building without queuing outdoors
Please consider the following guidance:

Arrive ready to workout: Arrive with your clean workout clothing ,   Changing rooms are open & showers will be open for  use. Toilets are all available.  Once you have finished the exercise class ,please ensure you clean down all equipment used thoroughly using cleaning products offered.
Sanitise: When you enter the centre please ensure to sanitise your hands and help us to keep cross contamination to a minimum. Wipe down all equipment used with sprays and blue towel provided and bin straight after cleaning each piece of equipment. 
Equipment:  Please bring your own clean cleaning cloth for wiping equipment or use blue roll and anti-bac spray available.
You are welcome to bring your own yoga/exercise mat for classes (where possible).
Cleaning: Touch points of all equipment and any sweat must be cleaned down by customers, with sprays and blue roll provided. Please spray cloth/paper with product firstly the the equipment to avoid damage. Please bin paper roll immediately after use..  
Showers and toilets are open
In and around the facility
There is a one-way system in place, please follow the signage.
You will enter the building as normal at your designated session time. Please do not arrive more than 15 minutes before your activity. We ask that you follow directional signs in the centre.
In the Studio
Space. Always maintain appropriate personal distance between yourself and another class user and our staff, be respectful of peoples personal space you do not know.
---
On finishing your exercise class
Please let us know in reception if you enjoyed your class on our customer comment forms - all the staff work hard to ensure a safe and enjoyable experience at Craven leisure for you. :)
Please ensure you clean your space and equipment thoroughly after use
Instructors will notify you when your session has ended and we would ask that you leave the Studio once you have cleaned the equipment used including mats, weights etc. Please take all rubbish with you.  
login to your online account to see the live timetable