Exercise referral programme for lifestyle change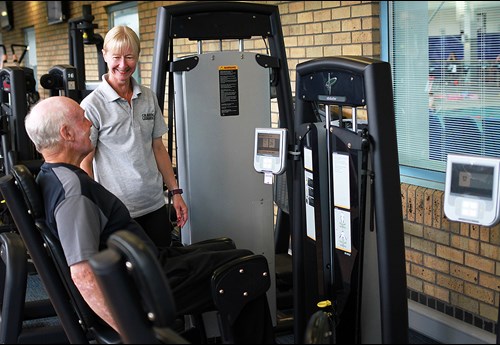 The detrimental effects of an inactive lifestyle are increasingly apparent and it is widely recognised that inactivity can elevate the risk of developing a wide range of health problems, such as; type 2 diabetes, CHD (Coronary Heart Disease), hypertension, cancer, stroke, obesity, and osteoporosis (Department of Health, 2000).
Background
An exercise referral programme allows Health Care professionals to refer individuals with a variety of medical conditions and/ or a history of sedentary lifestyle, who would never normally consider participating in regular physical activity, to a short-term, supervised programme of physical activity. The aim of this short-term intervention is to promote long-term adherence, by encouraging lifestyle changes, through which more physical activity will be incorporated into their lives.
The scheme may be seen as an alternative or an option to the prescription of drugs for certain conditions, and may ultimately reduce patient visits to the doctor.
Exercise referral relies heavily on the professionals involved as a powerful motivator in encouraging an individual to take up the supervised exercise programme, and indeed, to continue with physical activity in the long-term.
For health professionals, the schemes offer a practical approach to promoting physical activity, with a view to preventing and managing a range of medical conditions.
Referral costs
Gym and swim
Individuals who have been referred by a health professional can either pay a one off fee of £75.00 to participate on the scheme or pay a pro-rata and only £25.00/month (via direct debit for 3 months). This covers a 12 week period, during which the patient has unlimited access to the gym and / or swimming and a personalised exercise programme designed where specific classes may be recommended (depending on conditions).
There is no cost implication for the health professional. The sauna/steam are not currently included in this scheme.
The following conditions are not suitable for a swim referral:
Spinal cord injury (depending on functional ability & assistance available)
Stroke (depending on functional ability)
Severe back pain - no breaststroke recommended.

We accept referrals from medical health professionals who:
have knowledge of the patients medical history, current health status and medication
can make a clinical judgement as to the suitability of the scheme for the patient
can provide the necessary information about the patient (e.g. address, telephone number, date of birth, blood pressure, height, weight, resting heart rate).
Inform 
based in Craven and have agreed to the Memorandum of understanding agreement.

NB. Any health professional who refers a patient to the scheme must inform the patients GP via an individually agreed protocol.
Referral allowance
One twelve week referral per annum with reduced costs per person.
Re-referrals not allowed in a 12 month period.
Aims of our exercise referral scheme - 'Fit 4 Life'
To allow individuals who have a range of low to moderate physical or mental health problems to participate in a structured physical activity programme in a safe, supervised environment.
To offer a programme of physical activity, which looks at the individual needs of the referred patient rather than a general approach to certain target groups.
To raise awareness of the physical, psychological and social benefits of physical activity with individuals who are not normally physically active.
To promote long-term participation in regular physical activity by developing the individuals confidence in being active.
To improve participants health, well being and quality of life.
Specialist staff skills and competencies
Our schemes are facilitated by advanced instructors (Level 3) who hold the Wright Foundation Exercise Referral Qualification which has been recognised by REPS as a quality training provider.
The service professionals will be enrolled on the Register of Exercise Professional (REPS) and appropriately trained as below:
Instructors- Advanced Instructor / Personal Trainer (Level 3)
including Nutrition & weight management
Exercise referral (Wright foundation)
First Aid at Work.
Referral criteria
Exercise referral schemes aim to improve the physical and mental health of participants.
Though they are aimed at people with a range of existing, low to moderate risk medical conditions, they should also be viewed as a way of preventing such conditions.
The scheme is only available to patients who meet the following essential criteria:
Sedentary or physically inactive (less than 30 minutes activity per week)
Low to moderate risk
Aged 16 years or above
Would benefit from being more physically active
Keen to do facility based exercise.

The following low to moderate health problems are recommended reasons for referral onto the scheme:
Overweight/ Obesity
Hypertension (controlled) and current BP below 100mg systolic and 100mg diastolic
Mild to moderate mental health problems (e.g. depression, anxiety or stress)
Diabetes I and II (controlled)
Arthritis / Osteoporosis
Osteoporosis
Asthma / Chronic Obstructive Pulmonary Disorder (COPD)
Post physiotherapy musculoskeletal conditions e.g. knee, hip, shoulder etc
Family history of heart disease
Physical Disabilities.

N.B. If you have a patient that does not fit these criteria but you feel that they could benefit from participating in our exercise referral scheme, please contact us and we can discuss whether or not it is an option.
This scheme is not appropriate for high risk individuals. Clinical judgement will be important but usually individuals with the following will not be suitable for referral:
Unstable Angina
Unstable hypertension
Unstable diabetes
Severe coronary heart disease or early post myocardial infarction/coronary artery bypass graft/angioplasty
Unstable and or severe mental health problem
Late stages of pregnancy

Our instructor(s) will contact the referring health professional if we require further advice or clarification on any medical condition or medication. Exercise instructors reserve the right to refuse to support any patient whom they feel unqualified or unconfident to deal with.