FREE Adult Weight Management
FREE nutrition and exercise programme
This is a weight management programme that combines exercise with nutritional advice to help you to lose weight, change your lifestyle and improve your health and wellbeing.
New applicants welcome!
Our Privacy Notice for the Adult Weight Management Service has now been updated and can be found here: Adult Weight Management privacy notice | North Yorkshire County Council.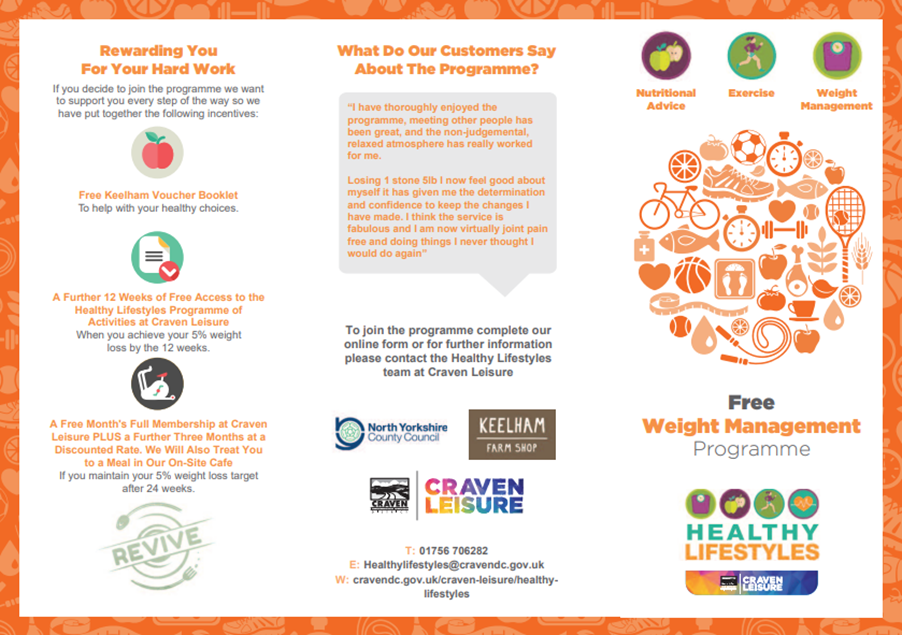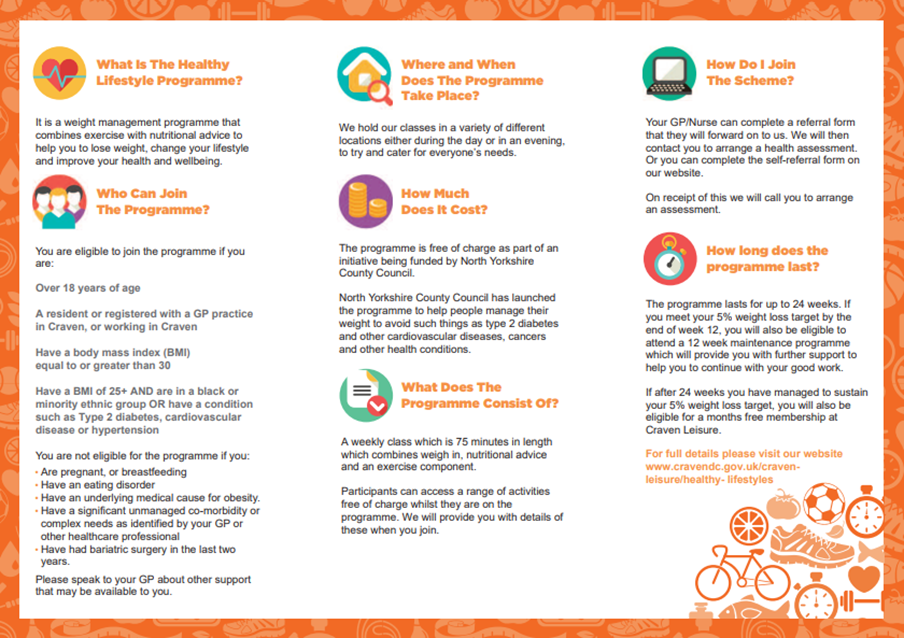 Apply by clicking below:
Register your interest in Healthy Lifestyles HERE
How much does it cost?
The programme is FREE service for up to 24 weeks to support adults to lose weight, move more and maintain long term weight loss.  This service is fully funded by North Yorkshire County Council Public Health.
Who is the service for?
The new eligibility for the Adult Weight Management Service from 1st October 2020 is:
aged 18 years or over
resident or registered with a GP practice in North Yorkshire OR working for an organisation based in North Yorkshire
 BMI criteria
BMI (Body Mass Index) equal to or greater than 30
 OR
BMI (Body Mass Index) equal to or greater than 25 AND a black or minority ethnic group OR with some comorbidities including type-2 diabetes, cardiovascular disease, or hypertension (other comorbidities should be assessed on a case by case basis for risk factors)
What does the programme consist of?
Group sessions are 75 minutes and consist of weekly weigh-in, healthy eating advice for weight loss and an exercise workout.
All Healthy Lifestyles participants can take advantage of the free activities offered whilst they are attending the weekly weigh-in and nutrition session.
What happens each week?
Private weigh-in

Physical Activity

Healthy eating educational group talks/activities.
Are you ready?
Do you have any holidays planned?

Can you commit to a 24 week service?

Are you in the right frame of mind to lose weight now?
How do I access the service?
Your health professional can complete a referral form that they will forward on to us or you can complete the self-referral form below. We will then contact you to arrange an assessment*
Self-referral
*We advise you speak to your GP before starting any new exercise or nutrition programme, especially if you have medical conditions and or have been sedentary for a long period of time.
---
Case Study - Lynn Wild
Prior to starting on the programme Lynn lacked self-confidence, she was very unhappy in herself and felt breathless taking the stairs at work on a daily basis. She has previously lost weight on slimming world and weight watchers but the weight crept back on.
Lynn has haemophilia which made her feel very conscious about doing any form of exercise due to the risk of injury/bleed. She also has a heart condition and high blood pressure which are all controlled with medication.
For Lynn the programme has enabled her to achieve and sustain the 5% target weight loss but it is the physical fitness and self confidence that has been her main achievement. She now exercises regularly and has a passion for walking, going on her first walking holiday next week. She is controlling her medical condition rather than it controlling her, along with lowering her current medication and feels much more positive and enthusiastic about the future.
Lynn said "Thank you so much for the fantastic opportunity. I would recommend the programme to anyone who needs the support and guidance for successful sustainable weight loss.'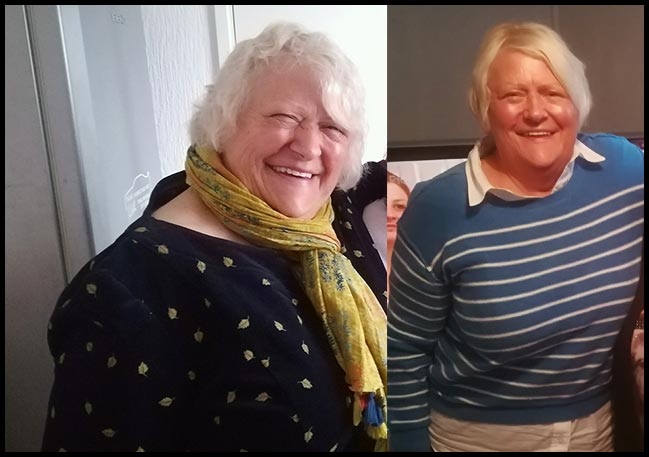 Testimonials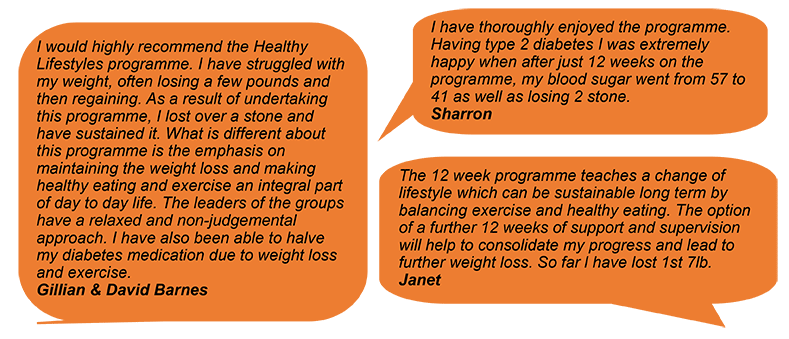 Download a detailed case study - Alan (PDF)
Download a detailed case study - Julie (PDF)
---
What happens next?
Our Healthy Lifestyles Coordinator will contact you to talk through the service, your eligibility, and any previous attempts to lose weight, what your motivations are, and the session options available to you.

After the initial discussion you will be booked in for a health assessment with your weight management advisor 

Once completed you will start the 12 week FREE programme 

If you are successful in achieving the agreed 5% weight loss, you will be entitled to a further 12 weeks support.
Rewarding you for your hard work
If you decide to join the programme we want to support you every step of the way so we have put together the following incentives:
Free Keelham Farm Shop voucher booklet for your healthy choices.
A further 12 weeks of free access to the Healthy Lifestyles programme of activities at Craven Leisure and satellite sites throughout Craven District when you achieve your 5% weight loss target by the end of the initial 12 weeks.
A free month membership at Craven Leisure PLUS a further three months at a discounted rate and a complimentary meal in Revive Café if you maintain your 5% weight loss target after 24 weeks (end of 12th week of maintenance programme).
Car Parking 
Healthy Lifestyles customers who are based at Craven Leisure on can apply for a FREE car park permit at reception.  Otherwise pay & display is in operation , please see car park notice boards in car park.
Links to useful services
Specialist staff skills and competencies
The programme is led by advanced instructors (REPS Level 3 or equivalent).
All of our advanced instructors are trained in the following areas:
Instructors - Personal Trainer (Level 3)
Nutrition & Weight Management
First Aid
Motivational interviewing
Alcohol intervention
Smoking cessation
Behaviour change

For further information please contact the coordinator by telephone:  email here: HealthyLifesty.cra@northyorks.gov.uk  or telephone: 01756 706282
Sessions in the Craven District: 
| | | | |
| --- | --- | --- | --- |
| Venue | Day | Session format | Time |
| Craven Leisure, Skipton BD23 1UD | Monday | Nutrition, exercise and weigh-in | 2.15pm-3.30pm |
| 3 Links Club, Skipton BD23 1ER | Monday | Nutrition, exercise and weigh-in | 7pm – 8.15pm |
| Craven Leisure, Skipton BD23 1UD | Wednesday |  Nutrition, exercise and weigh-in | 2pm-3.15pm |
| Town Hall, Skipton BD23 1AH | Wednesday |  Nutrition, exercise and weigh-in | 6pm-7.15pm |
| NEW! Settle Pool, Settle, BD24 9RH | Thursday | Nutrition, exercise and weigh-in | 10.45am- 12 |