The latest information for the reopening of our centre.
Thank you all for your continued support.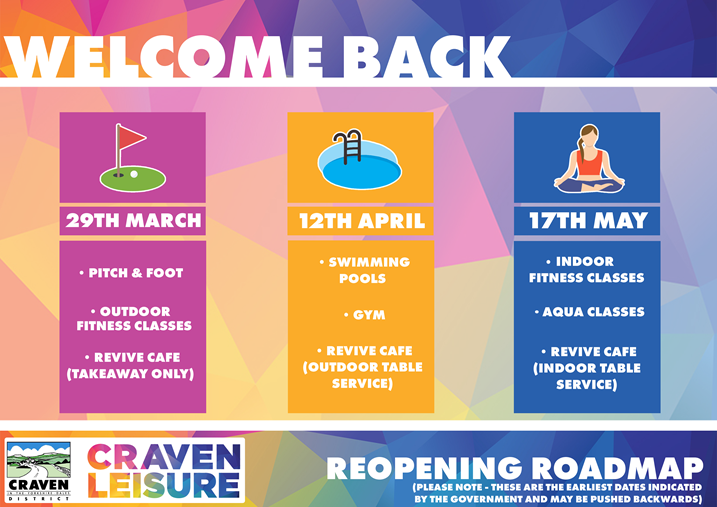 You will be able to book sessions three days in advance.  
General swims:
You will be able to book general swims online from the link below.

---
Book an Individual session
Book an exercise class, lane swim or a gym session via our online portal below, all users will need an individual account to book these sessions.

---
Check out our new temporary timetables from April 12th here:
---
Our timetable for reopening in 2021, in line with current Government guidance, is as follows:
15th March*
School swimming lessons restart
29th March*
Outdoor Fitness classes (weather dependent)
Online Fitness classes will continue
Outdoor Pitch and Foot reopens
Takeaway services from Revive café
12th April*
Indoor Gym reopens
Swimming sessions begin - During this period we will have additional lane swim sessions due to some clubs unable to return at this point  
Swimming Lessons restart
Revive café Outdoor table service
17th May*
Indoor group exercise classes begin including Aquarobics
Revive Café will offer indoor table service
*Please note these are the earliest times indicated by Government and may move backwards.
---
We've been working hard to ensure our centres remain a safe environment for all. Below are details for the measures we are taking specifically to certain facilities/activities within them.
Please ensure you read this information thoroughly before visiting the centre. All the measures detailed below are based on government guidance and our own risk assessments.
Please ensure you familiarise yourself with our General Covid safety plan as well as the activity specific measures prior to your visit.
The support from our customers is invaluable during these difficult times. We are incredibly grateful to you all.
Here is a reminder of the procedures in place so if you are planning a visit to the pool or gym, please read this information carefully.

Advanced Booking
• Once we re-open all your visits must still be pre-booked. This can be done online via your membership portal at https://www.cravendc.gov.uk/craven-leisure/book-activities-online/  or by telephoning the centre.
• You will be able to pre-book sessions online from Sunday 9th April.
• You can pre-book your activity up to 3 days in advance, with bookings available from the time of the session E.g. 7am Friday for 7am session on Monday.
• If you have still not registered for online booking you can do so by visiting our webpage or by contacting cravenleisure@cravendc.gov.uk.
Your Membership
• Your membership will be re-activated for bookings on the 9th April, 3 days ahead of re-opening.
• No membership fees will be taken on the 1st April.
• Your direct debits will be restarted from the 15th April and the 1st May 2021
1st Payments will be collected at 50% of your normal amount. A further email will follow with specific details.                                                                                   
• If you have a paid-in-full membership, your remaining time will be automatically extended to account for closure.
• If you wish to keep your membership frozen you must contact us by email.

How are we keeping you safe?
✓  A temperature check will be taken prior to entry.
✓  Masks must be worn at all times when travelling through the building. (not while exercising)
✓  Social distancing floor markings and signage.
✓  Limited number of people accessing our facility at any one time.
✓  Hand sanitiser and cleaning stations have been installed throughout the building.
✓  All equipment is still repositioned or relocated to allow for social distancing.
✓  We will be maintaining a rigorous cleaning schedule, which includes cleaning between each pre-booked session.
✓  Some areas are still temporarily closed for your protection.
✓  No admission of staff or customers who show possible symptoms of Covid-19
Before you visit
Please arrive ready to exercise. Where possible please avoid arriving early to minimise any queues outside of the building.
Respect social distancing and follow signage throughout the leisure centre. 
Bring a drink, but please do not bring a sweat towel into the gym.
Please do not come to the centre if you are showing any symptoms of Covid-19 (temperature, cough, difficulty breathing, or anosmia - loss of taste or smell).
For all up-to-date information and updates on our facility programme, opening hours, pre-bookings, online registration and our safety measures please visit our website or follow us on social media to stay up to date with the latest.
FAQ's
When will I be able to book my activity?
Currently, bookings are due to commence 3 days prior to the centre re-opening. At the moment we are working towards the Government's indicated re-opening date of 12th April, however we expect to receive confirmation of this seven days in advance and will therefore ensure we inform customers as soon as we can.
Do I need to do anything with my membership ?
Whilst our centres are shut your membership continues to remain frozen. Prior to us reopening your local centre, you will receive an email regarding your memberships and any action you need to take.
I would like to take out a membership, how do I do this?
I've cancelled my direct debit with my bank – how do I now start up my membership again?
If you've cancelled your monthly payment at the bank, we will have cancelled your membership. It will therefore be necessary for you to join again and complete a new direct debit bank mandate. Join Here and take out a new membership which will generate new instructions to your bank.
 We have answered other questions about re-opening, memberships and other areas, these can be found on our – FAQ's Section