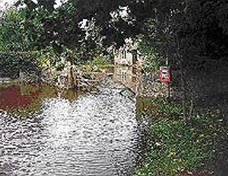 Craven District Council may provide sandbags to limit the effect of the flooding or investigate the condition of drainage systems or watercourses which are the source of the flood. North Yorkshire County Council has powers under the Land Drainage Act to require owners of watercourses to carry out maintenance and repair works.
How to request sandbags
To request sandbags call Craven District Council on 01756 700600 or, outside office hours, call 01653 699 392 and we will respond as quickly as possible.
What to do in a flooding emergency
It is the responsibility of landowners to protect their properties from flooding. We can offer an emergency supply of sandbags if there is an unexpected or serious threat of flooding to premises. Sandbags can be sent to sites where the current levels of protection are likely to fail, resulting in flood damage to buildings or their contents.
Please note:
during severe storms roads may become blocked, and the call for help may exceed the available resources resulting in delays in response.
this is a voluntary service ­and we cannot guarantee to deliver sandbags at all the sites that might need them.
 To check if you are in a property at risk from flooding contact the Environment Agency.
Preparations in advance
1. Create your own emergency plan - if you feel that you may be at risk from flooding it is wise to have an emergency plan for your property, if possible working with neighbours. Keep this information, and useful telephone numbers on the back, to hand.
2. Prepare a simple flooding pack - a torch, candles, matches, battery operated or clockwork radio, a few simple tools and Wellington boots. Supplies of bottled water and food on an upper level should also be kept.
3. Work with your neighbours - contact your neighbours; if you are at risk your neighbours are at risk too. Include them in any plans and work together.
4. Have a store of sandbags - you can buy sandbags from most builder's merchants and DIY stores. Plastic or polypropylene are best because they last longer. Alternatively it is relatively easy to create your own sandbags by filling black plastic sacks with soil although this method may not be as effective.
5. Use purpose built covers - a number of private companies are offering purpose built door, window and air brick covers. The Environment Agency has a comprehensive list available. The list is available on their website.
6. Use plastic sheeting - another means of protection is by fastening plastic sheets to the outside of any external doors and keeping them closed. This should provide a seal between the door and the frame but again this may not be as effective as installing proper door boards and covers.
7. Make sure you have the right insurance cover - be insured, make sure you have proper insurance cover and keep the details to hand. Flood Re is the national scheme designed to help provide better access to affordable home insurance for those in high flood-risk areas across the UK. It represents a long-term, sustainable approach to providing home insurance for those at flood risk. More information is available here: Flood Re Insurance Leaflet [153kb]
8. Turn off utilities - in the event of flooding make sure you turn of your water, gas and electricity supply from the mains to prevent contamination and potential electric shocks. Do not turn them on again until your property has been properly inspected.
9. Pets  - if you do have to be evacuated, separate arrangements can be made for some domestic animals through our Animal Welfare service or the RSPCA.
Using Sandbags
Sandbags have a limited shelf life so please be aware of the following guidelines:
Keep some sandbags in stock. They can be obtained from several builders' merchants or from the Council. Keep them dry and in a convenient place, out of sunlight.
Ensure that when calculating how many you will need, you consider air bricks, doors leading off garages that may flood inside, cat flaps, low level letterboxes etc as well as obvious doors.
Be aware that sandbags do seep water even when well stacked and trodden into place. Also consider whether water can get around your defences, for example around doorframes or under doorsteps. There are sealants available, again from builders' merchants and hardware stores that can be fitted at a convenient time well in advance of a problem. Always read the instructions on such products.
Remember
Sandbags, particularly after use, will rot or break down and become unusable over time.
They may become contaminated and should be treated as such after use.
They are much heavier when wet and should be handled with care.
Builders' merchants and Council offices may not be open or may have insufficient stocks when you need them.
 
How to place sandbags
Lift the sandbag by the neck and place horizontally with the neck twisted and tucked underneath. Make sure it is stamped down and well bedded in. Layer the sandbags in brick formation, ensuring that joints are staggered.
More detailed advice on flooding, flood prevention measures and sandbags is available by visiting the Environment Agency website.
What causes drainage problems?
Drainage grills and gratings, such as on road gullies can become blocked very quickly when materials like mud are deposited on the road or when there is a heavy fall of leaves and if this mixes with other litter that has entered the gully pot they can become blocked.
Public Health England Leaflets on Flooding
How to clean up your home safely - - this leaflet provides important health advice and some basic precautions to keep you and your family safe while cleaning up your flooded home.
Flooding Advice - planning for flooding, what to do during a flood, recovery and cleaning up after a flood
Flooding frequently asked questions
Flooding - general information about mental health following flooding
Driving and floods
Advice from 'Smart Driving' on driving through flood water