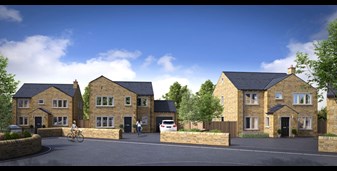 (Picture is for illustration only)
14 affordable homes available on a rental and shared ownership basis
PLEASE BE AWARE THAT THE SHARED OWNERSHIP HOMES ON THIS SCHEME ARE NOW ALL SOLD SUBJECT TO CONTRACT.
THE RENTAL HOMES WILL BE ADVERTISED ON HOMECHOICE W/C THE 26TH AUGUST.
This new build scheme by local developer R.N. Wooler is located off an existing well-regarded residential street positioned on the edge of Skipton, yet within walking distance of the town centre with its range of shops and restaurants.
---
Scheme details
Properties available :
A mix of 1, 2 and 3 bed homes will be available on this development. Details of prices and tenure will be made available nearer the time they become available. Please keep checking the website for further details.
The properties have been constructed in natural stone and include private parking .
On completion, the developer will transfer the homes to a housing association or the council.  
Please be aware that in order to apply for a rented property you must be registered on North Yorkshire Homechoice
In order to apply for the shared ownership homes you will need to be registered with Help to Buy . Subject to income, shares of anything from 25% to 75% will be available at 25% to 75% of market value, with a subsidised rent payable on the remaining unsold equity.
 Eligibility
You must be a person or household in need who cannot afford to rent or buy dwellings of a similar kind on the open market within the Craven DC area.
Your household earns £80,000 per year or less.
You must not currently have your name on title deeds associated with another property.
Priority will go to Serving military personnel and former members of the British Armed Forces discharged in the last two years.
Priority will be given in the first instance to those with a local connection.
Local Connection is defined as someone who has:
Resided in the search area for 3 years out of the preceding 5 years.
Have resided in the search area for 20 years or half the person's lifetime (subject to a minimum of 10 years)
Have immediate family in the search area that has lived there for a continuous period of 10 years (family is mother, father, brother or sister)
Have undertaken regular permanent (ie. not seasonal) employment throughout the last 12 (twelve) months (which is ongoing)and with a business established for at least 3 (three) year s and such employment to be at least 16 (hours) each week
The search area is defined as Skipton in the first instance then cascading out to the Craven South Sub area (excluding those parishes within the Yorkshire Dales National Park) and then cascading out to the rest of the Craven District including those parishes within the Yorkshire Dales National Park. 
What to do next
To register your interest in the shared ownership units that will be available on this scheme and other shared ownership properties available within the Craven District please email eshepherd@cravendc.gov.uk and title your email SHARED OWNERSHIP. Please ensure you include your name, address, email and or phone number.