Craven District Council is supporting the Winter Plus initiative for Craven residents who are either:
Aged 65 or over
Disabled or have mobility problems or
Vulnerable due to ill health
Working in partnership with AgeUK, Craven Home Improvement Agency, North Yorkshire Fire and Rescue, Carer's Resource and Pioneer Projects, we are able to offer the following:

One to one support through advice, befriending and other services from AgeUK

Practical help at home e.g.grab rails, insulation, minor adaptations
Smoke Alarms and advice on fire safety
Emotional and practical support from those that provide care to others
Social Activities to stay healthy and active
This scheme is funded through North Yorkshire County Council and Craven District Council and forms part of the 'Warm and Well' initiative.
If you need help to keep warm, prevent illness or accidents - or just someone to talk to - or you know of someone who does, please contact Age UK (North Craven) on 01729 823066 or Warm and Well in North Yorkshire on 01609 767 555.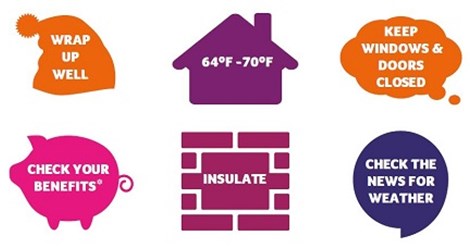 Even if it isn't a severe winter, cold weather makes us more vulnerable to certain illnesses.
The checklist below will help you keep healthy in winter:
Keep your main living room around 70°F (21°C), and the rest of your home heated to at least 64°F (18°C).
Close the curtains at dusk and fit thermal linings if you can. This will keep the heat in.
Keep your bedroom window closed at night when the weather is cold.
Make sure you keep your hands and face warm. As well as wearing gloves and a hat, always wrap a scarf around your face when you go out in cold weather.
Several thin layers of clothing will keep you warmer than one thick layer, as the layers trap warm air.
Wear warm clothes in bed. When very cold, wear thermal underwear, bed socks and even a hat - a lot of heat is lost through your head.
Keep your feet warm. Choose boots with non-slip soles and a warm lining, or wear thermal socks.
Check local news and weather forecasts for advice when cold weather is predicted.