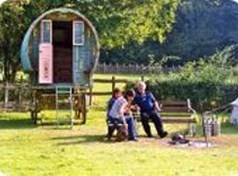 There are no local authority owned gypsy and traveller sites in Craven, however, there are two private sites within Skipton.
Occasionally there are unauthorised encampments within Craven as Gypsy and Travellers pass through our district on the way to and from Appleby Fair in June. 
Visit our frequently asked questions page which explains what action can be taken and what powers councils and the police have in relation to illegal encampments.
---
North Yorkshire sites
There are 8 local authority owned sites in North Yorkshire. To find out more about how to register for these sites, please contact North Yorkshire County Council  or Horton Housing who manage these sites on their behalf.
City of York Council sites
There are 3 local authority owned sites in the City of York which are managed by the Council. To find out more about these sites please contact York City Council. 
---
Gypsies, Roma, travellers and showmen in Craven
There is a long established community of Gypsies, Roma & Travellers (GRTs) living in Craven and elsewhere in North Yorkshire. We have no record of Showmen living in Craven and there is no Showmen's site in Craven.
Throughout the summer months a number of Travellers and Showmen from other parts of the country stay or stop off in the district to visit relatives and/or work at village and market town fairs. Many GRTS groups also stop off on their way to other parts of the country as the A65 and A59 are key routes that connect to wider traveller networks and fairs.
Accommodation needs of gypsies and travellers
Local housing authorities have a duty to deal with the accommodation needs of gypsies and travellers.  To meet these duties local authorities must carry out an assessment into the needs of gypsies and travellers residing in or resorting to their district. 
In 2013/14 the Craven assessment concluded that the overall need was a requirement for one pitch:
5.18 The estimated extra site provision that is required now and in the near future for Craven will be one pitch to address the requirements of the household on a site with temporary planning permission. The main private site in Craven is likely to see a balance of in and out migrants and formation and dissolutions and hence is unlikely to generate additional need while the only unauthorised site does not require planning permission. There is no evidence of any household wishing to live on a public site in Craven.
The full Craven Gypsy, Roma, Traveller and Showpeople Assessment report is available to download.