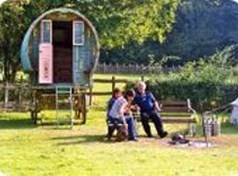 There are no local authority owned gypsy and traveller sites in Craven, however, there are two private sites within Skipton.
Occasionally there are unauthorised encampments within Craven - as Gypsy and Travellers pass through our district on the way to and from Appleby Fair in June.
---
North Yorkshire & York gypsy & traveller sites
There are 8 local authority owned sites in North Yorkshire:
North Yorkshire County Council sites
Hambleton area:

Thirsk - Bankside Close, SOWERBY, YO7 3TY
Stokesley - Seamer Site, Hillfield Close, Seamer, Nr. STOKESLEY, TS9 5PB

Harrogate area

Bickerton - Spring Lane Caravan Park, BICKERTON, Wetherby, LS22 5ND
Thistle Hill - Thistle Hill Caravan Park, PLOMPTON, Knaresborough, HG5 8LS

Richmondshire area:

Catterick - Limekiln Woods Caravan Park, CATTERICK, DL10 7QF

Ryedale area:

Tara Park , York Road, MALTON

Selby area:

Carlton - Carlton Caravan Site, Racecourse Lane, CARLTON, Goole, DN14
Burn - Burn Caravan Site, Common Lane, BURN, Selby, YO8 8LF
To find out more about how to register for these sites, please contact North Yorkshire County Council  or Horton Housing who manage these sites on their behalf.
Ryedale District Council
Ryedale area

Tara Park, York Road, MALTON
To find out more about how to register for these sites, please contact Ryedale District Council's Housing Unit on 01653 600666 ext 383.
City of York Council sites
There are 3 local authority owned sites in the City of York which are managed by the Council:
To find out more about these sites please contact York City Council.
---
Gypsies, Roma, travellers and showmen in Craven
There is a long established community of Gypsies, Roma & Travellers (GRTs) living in Craven and elsewhere in North Yorkshire. We have no record of Showmen living in Craven and there is no Showmen's site in Craven.
Throughout the summer months a number of Travellers and Showmen from other parts of the country stay or stop off in the district to visit relatives and/or work at village and market town fairs. Many GRTS groups also stop off on their way to other parts of the country as the A65 and A59 are key routes that connect to wider traveller networks and fairs.
Accommodation needs of gypsies and travellers
Local housing authorities have a duty to deal with the accommodation needs of gypsies and travellers.  To meet these duties local authorities must carry out an assessment into the needs of gypsies and travellers residing in or resorting to their district.  A county-wide assessment was carried out and published in May 2008, followed by the formation of an action plan.  Please click on the links below to access the full assessment and executive summary.
2008 North Yorkshire & York Gypsy & Traveller Accommodation Assessment [424kb] 
2008 North Yorkshire & York Executive Summary-Accommodation Assessment [33kb] 
More recently in 2013/14 each local authority carried out independent assessments to update the evidence needed for inclusion in their individual local plans.
The Craven assessment concluded that the overall need was a requirement for one pitch:
5.18 The estimated extra site provision that is required now and in the near future for Craven will be one pitch to address the requirements of the household on a site with temporary planning permission. The main private site in Craven is likely to see a balance of in and out migrants and formation and dissolutions and hence is unlikely to generate additional need while the only unauthorised site does not require planning permission. There is no evidence of any household wishing to live on a public site in Craven.
The full Craven Gypsy, Roma, Traveller and Showpeople Assessment report is available to download.
Issues facing gypsies, Roma, travellers and showmen
Research shows there is a close link between the lack of good quality sites for GRTS groups and poor physical health. Following on from the North Yorkshire Gypsy & Traveller Needs assessment in 2008, a Gypsy and Traveller Partnership was formed. This partnership comprises of representatives from the County and District/Borough councils. Our membership enables us to work with resident and transient communities to improve communication and understanding between then and local housing and planning authorities across York and North Yorkshire.
The partnership sits within the York, North Yorkshire & East Riding Housing Board structure and reports to the Chief Housing Officer's Group.
Support for gypsies, Roma, travellers and showmen
GaTEWAY is an accommodation-related support service for gypsies and travellers provided by Horton Housing.  Working with single people, couples, families and older teenagers across North Yorkshire, GaTEWAY provides short-term support ranging from very brief involvement to a maximum of two years.

Contact details for GaTEWAY:
Address:    Room 6, First Floor, Community House                    Portholme Road, Selby, YO8 4QQTel:            01757 241020 or 07584 015765 (voicemail available on both numbers) Email:        gateway@hortonhousing.co.uk

For the GaTEWAY leaflet and GaTEWAY Service Description, please click on the links to the right.
Craven District Council works closely with the GaTEWAY Service and their  part-time worker "hot desks" within our Housing Options team at Belle Vue Square, SKIPTON. If you require advice and assistance please contact Horton Housing or our Housing Options Team.