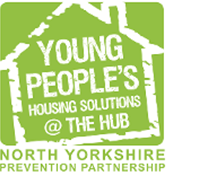 The Young People's Housing Solutions @ The Hub helps 16- 25 year olds with all issues around housing and homelessness.
The Hub is a partnership of local housing support and accommodation providers, North Yorkshire County Council and Craven District Council, and is based within the Housing Options team at Craven Council offices, Belle Vue Square, Skipton.
---
What help is available?
At the Hub we offer:
Support for young people aged between 16-25 who are homeless or at risk of becoming homeless
General housing advice and support around issues like benefits and managing a tenancy
Support and help to stay in your own home where it is safe and appropriate to do so
However, we know staying at home isn't always suitable or possible so we offer a range of accommodation and support services.
The Hub will
Talk you through everything and make sure you have a clear understanding of your options so you can make an informed choice
Answer any questions you have
Take into account your wishes and feelings
Provide you with a support worker who will help you through the entire process
If you have been asked to leave home then we will always contact your family to discuss the situation. We will offer advice and support to enable you to remain at home or return home even if this is just in the short term until more permanent accommodation can be found.
Due to the lack of affordable housing in the Craven area, many people feel they have no choice but to declare friends/relatives as "homeless" in the belief it will help them, however there is a severe lack of housing available for young people and in most cases it is better to live with parents or another family member.
---
What accommodation is available?
There is a range of accommodation available, but places are limited and not every young person who becomes homeless will be offered long term accommodation. 
Access to all the following accommodation is ONLY through the Hub:
SASH - Safe and Sound Homes - Night Stop
This is emergency accommodation for up to 14 nights staying with a host family. Transport, a meal and bed for the night are provided. The aim is to provide mediation during this time that allows the young person to return home.
A risk assessment is carried out before a place can be offered and those with high needs/risk will not generally be accepted.
SASH - Safe and Sound Homes - Supported Lodgings
Supported Lodgings provides accommodation with a host family for up to 2 years for young people with medium needs. The host and project workers support young people to develop their independence skills, such as budgeting and basic cooking.
The host provides the young person with a room of their own, breakfast and an evening meal daily. The young people are encouraged to continue/begin an education programme/job and can be referred for additional specialist support with personal issues they wish to work on.
Foundation - supported housing
Supported housing is available for young people with medium or high needs, either at the Carriage Works, Cross Street, Skipton, which is staffed 24 hours a day or an independent flat in the Craven district.
Residents are expected to take a part in a programme of support to develop their independent living skills and are expected to move on after approximately 6 - 9  months.  
---
What to do next
If you are aged 16 - 25 and are interested in talking to someone about your housing problem or are working with a young person and need some advice - please contact the Hub on 01756 706475 or email housing@cravendc.gov.uk.