We are dedicated to developing and nurturing individuals by passing on skills and knowledge in order to grow our own talent.
Currently we offer Apprenticeships in a wide range of service areas, including Assets and Property, Business Support, Finance, ICT, Licensing, Planning, Revenue and Benefits and Waste Management (Mechanics Workshop). The Apprentices earn whilst they learn, supported by our scheme - our apprentices are on a fixed term contract for a period of 18 months. The scheme provides opportunities to develop skills, knowledge and experiences.
Craven District Council encourages our employees to upskill and many of have enrolled on a wide variety of Apprenticeships including Degree Apprenticeships.
Recruitment for apprentice positions takes place in August and September. Interested young people are encouraged to contact Chloe Green, Apprentice Scheme Coordinator on 01756 706204 or email apprenticeships@cravendc.gov.uk.
Details of any current apprenticeships which are available are shown on our Job Vacancies page.
Our apprentices are inducted into the authority in the same way as all new employees. Additional support also includes a buddy scheme with internal staff.
The learning and development opportunities support the Council's People Strategy which aims to raise the aspirations of young people in the District.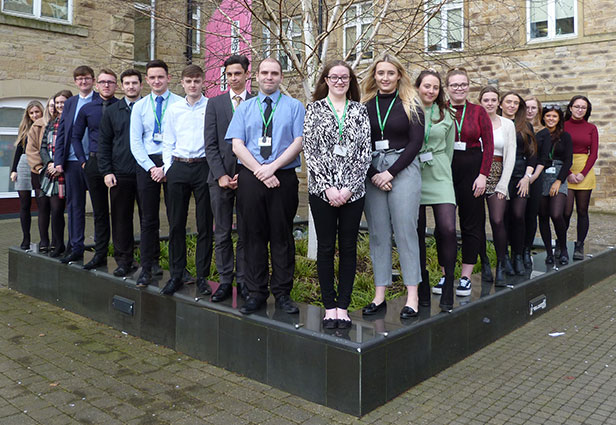 A typical day for an apprentice in our Business Support Department would be as follows:
First 6 - 12 months
The apprentice oversees and supports the daily functions of the unit, e.g. sorting and distributing the Councils incoming post, processing outgoing post, updating spreadsheets, scanning and indexing documents, taking basic notes, responding to routine telephone calls and taking messages as required, setting up meeting rooms and organising refreshments. The apprentices also have the opportunity to work in other service areas and this could involve working at different sites.
12 months onwards
Having developed a sound knowledge of the function, the apprentice is developed by giving the post holder more responsibility, now that they have a sound base knowledge of the ongoing business. Apprentices also buddy new starters into the unit. In addition, they are developed to take on more challenging and creative work and would build up a more sound knowledge of each discipline within the service area.