More than 900 people prepare for Skipton Triathlon 2018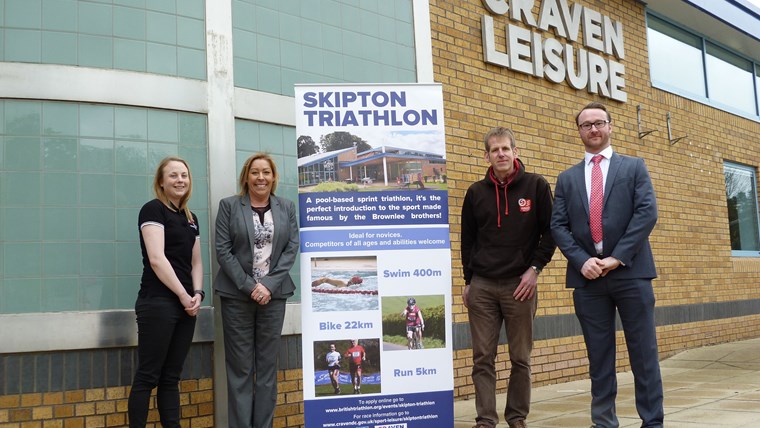 More than 900 people have signed up for Skipton Triathlon 2018, taking place on April 15.
Competitors will take on a 400-metre swim in the Craven Leisure pool, followed by a 22km cycle around local roads and a 5km run around Aireville Park.
Skipton Triathlon has been made possible again this year by a number of local companies who have sponsored the event.
RunRight Ltd, Uvenco UK, Tilney, and Omnis Services are the main sponsors, while the event is also being supported by Keelham Farm Shop, Bizzie Lizzie's, Birchall Food Service, Grandma Wild's, JACS, Cotswold Outdoor, Thistle Rose Campervan Conversions, Harrogate Spa, Yorkshire Dales Ice Cream, Riders Cycle Centre, Sportsshoes.com and Sportmax.
RunRight Ltd is based in Skipton town centre and provides specialist run technique training combined with strength & conditioning coaching to improve times and reduce injuries for athletes of all sports. The RunRight team will be offering a free, short running analysis to triathlon competitors on the day.
Mark Wilkinson, Technical Director at RunRight and Chartered Physiotherapist said, "We are proud to be sponsoring a local event that is open to people of all abilities. The whole team at RunRight Ltd is behind everyone competing in this event, and is particularly looking forward to hearing about all the personal best times achieved by our clients."
Uvenco UK is the premium supplier of vending machines in the UK. Business Development Manager, Julia Merella said: "We are currently focusing on making vending services healthier by using the NHS's CQUIN model to reduce the percentage of sugar in vending machines. We will deliver this by providing our customers with a more healthy choice of snacks and drinks. The link up with Skipton Triathlon supports our focus on healthy eating."
Tilney is an award-winning financial planning and investment company that builds on a heritage of more than 180 years. The company looks after more than £23 billion on behalf of its clients. Ian Gibson, Tilney's Managing Partner in the North East, said: "We are delighted to sponsor the Skipton Triathlon this year. The event continues to grow in popularity both here in Yorkshire and across the UK. Good luck to all the participants involved in this exciting sporting event."
Omnis Services is a Skipton based print and sign company offering a wide range of branding solutions including leaflets, business cards, banners and signage. The owner, Jonathan Mashiter said: "I have many years' experience serving the businesses of Skipton and am pleased to support Craven District Council in this event which helps promote the town as a healthy and active place to live and work."
For more information about Skipton Triathlon go to www.cravendc.gov.uk/sport-leisure/skipton-triathlon-2018/
Pic shows: (l-r) Katy Taylor of RunRight, Julia Merella of Uvenco, Jonathan Mashiter of Omnis Services and Luke Lodge of Tilney.