You are here:
Craven District Council plants thousands of trees on Council land
Craven District Council plants thousands of trees on Council land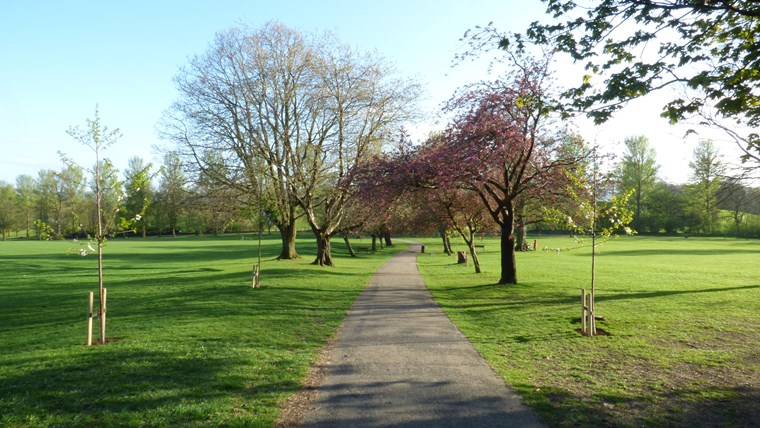 Craven District Council has planted a total of 9,000 trees in Aireville Park, Shortbank Road and Middletown Rec in Skipton over the last two months.
The planting includes 30 large trees in Aireville Park, funded by Bettys Trees For Life Fund, administered by Two Ridings Community Foundation, who provided £4,000. The bid was submitted with the Friends of Aireville Park community group, who have also pledged £1,200 towards tree planting in the Park.
Contractors and volunteers helped with the first round of tree-planting but since the lockdown began, the Council's trees officer has been planting single-handedly.
Residents have been helping water the trees in the unexpected warm weather but the Council, kindly assisted by Skipton Fire Station, now has plans in place to keep the new trees hydrated.
The large trees in Aireville Park have been chosen to provide spring blossom and autumn colour. Species include birch, cherry, crab apple, hawthorn, Mediterranean Pine, Austrian Pine, beech, maple and hornbeam. More trees are scheduled to be planted in other areas of the park in November.
Councillor Carl Lis, Craven District Council's lead member for Greener Craven, said: "It's wonderful to see these new trees providing greenery and colour to our district in these difficult times. We'd like to thank all residents who have helped keep the trees watered over the last couple of weeks during this unseasonably warm weather.
"These tree-planting schemes remain important as they will provide benefits in biodiversity, connecting woodlands, improving air quality and flood alleviation.
"This is a key part of our climate change strategy, following our declaration of a climate emergency last year."
The tree-planting scheme in Craven has also been funded by DEFRA's Northern Forest fund with approximately £40,000 to fund stock proof fencing, rabbit proof fencing, stakes, guards, the 9,000 trees and the contractors.