Six-year-old Henry Churcher wins Craven District Council's video competition – with Bertie the dog!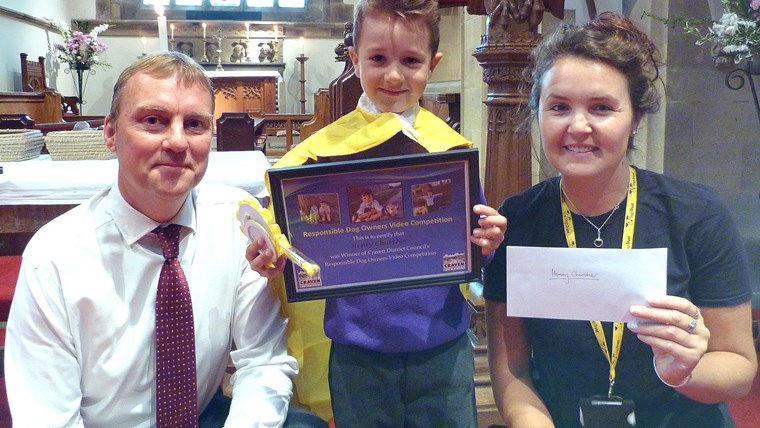 Henry Churcher, aged six, from Carleton School, has been crowned as the winner of Craven District Council's video competition.
All primary school children in Craven were invited to create videos about responsible dog ownership, as part of a campaign to crack down on dog fouling and educate the public.
Henry was awarded a prize of £200 for his school, along with a basket of goodies from Ashlands Vets and a £20 gift voucher from Morrisons.
Henry's video featured his own pet dog, Bertie, and sees the pair explain how to keep your dog safe, how to stay safe around dogs, and importantly, to pick up dog mess.
Paul Ellis, Craven District Council's Director of Services, said: "We were delighted to receive a number of high quality entries to our competition but Henry's video really stood out – he and Bertie do a great job of informing the public.
"We know families and children feel really strongly about dog fouling, and we've been making huge efforts to crack down on this issue in recent years.
"We hope this video will help us get the message across to dog owners – that it's really important to pick up after your pets."
The council has recently teamed up with the Dogs Trust to present a series of primary school visits, where children were given the chance to meet one of the rescue dogs from the charity and ask any questions they may have.
They were also educated on how to stay safe around dogs, the issue of dog fouling and the importance of picking up after your pet.
The council's Clean Neighbourhoods officers have been visiting primary schools along with Laura-Jane Muscroft, Education and Community Officer with the Dogs Trust.
Laura-Jane Muscroft said: "It's been fantastic to work with local schools in Craven and the children have been really enthusiastic. We hope they will be passing on the messages they learnt in school to their families and friends.
"We hope Henry's video will help us get the message across to the wider community and encourage more people to be responsible with their pets."
To find out more about the education programmes run by the Dogs Trust, go to www.learnwithdogstrust.org.uk