Skipton Town Hall is building for the future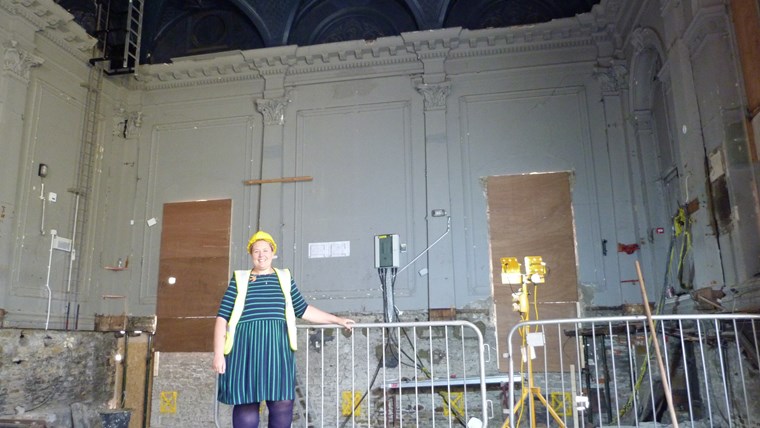 Ambitious plans to redevelop Skipton Town Hall are well underway – preparation work is almost complete and the rebuilding phase is about to begin.
By summer 2020, Craven Museum will have been completely redesigned and will reopen on the ground floor. The historic collections will have been reinterpreted and there will be a dedicated education space, museum store and research facility, plus flexible use dressing rooms and toilets to the rear of the building.
The Concert Hall will have been redecorated and improved, with a flexible and modern performance space, and the impressive decorative ceiling will have been restored.
Looking around the busy, dusty site now, it's possible to see the plans taking shape. In the Concert Hall, the proscenium arch and old stage area have been removed, making way for the new demountable stage, which will allow performers to choose how they wish to use the space. It will also become possible to host larger events in the hall.
New house lighting and performance lighting will be installed, along with a live streaming capacity, allowing streaming in from the likes of Royal Opera, National Theatre and others – and out to village halls and community spaces across the District.
The annex area of the building, where cafés were sometimes held, has been cleared in preparation for the museum to move to the ground floor.
At the back of this space, an extension will be built to house the museum store, kitchen, new toilet facilities including a Changing Places toilet, and the education space.
Behind the Concert Hall, the building work has uncovered the need to reinforce the back gable end, and a backstage area with changing rooms for the performers will also be added on.
The new Hub space at the front of the building, which was opened in 2018, will continue to be available for public use by community groups and others, while the education space could also be used for meetings and adult education, as well as by schools.
A double height space will be created to provide a reception, visitor information service, museum entrance and box office, while upstairs there will be a white box art gallery with a changing programme of exhibitions.
Two accessible lifts will be installed to the front of the new museum and within the rear extension, to ensure the building is fully accessible for all visitors and performers.
Councillor Simon Myers, Craven District Council's lead member for Enterprising Craven, said: "I'm delighted to see the progress being made at Skipton Town Hall as these exciting plans take shape.
"It's been a lot of hard work to get to this point but it will be well worth it when we have a fantastic 21st century facility for the whole community."
Danielle Daglan, Programming & Venue Development Manager at Craven District Council, said: "It's brilliant to see our plans becoming reality and we're all looking forward to the completion of this project.
"We want to make the whole building more accessible for everybody. Although we are developing a cultural hub here, we want it to also remain a community space. So many more people will be able to use the building in so many different ways.
"Our education provision for school groups and others will be transformed, and we'll have a brilliant new Museum and Exhibition Gallery, as well as a vastly improved Concert Hall."
The work is being funded by a National Lottery Heritage Fund grant of £1.5 million, along with match funding of £943,800 and capital funding of £532,390 from Craven District Council. The remaining £1.6m is being underwritten by Craven District Council with funding applications pending.  
During the period of closure, the Hub space in the Town Hall remains open and is available for community hire. Wildwood restaurant and Skipton Town Council also remain open within the building.
The Town Hall team is touring a number of events around the district during the closure, and the Craven Museum staff are taking elements of Museum collections out to schools and holding free drop-in sessions at locations around Craven.
The Tourist Information Centre has been relocated to Coach Street, Skipton, for the duration of the works and has been renamed Visitor & Information Service to reflect provision of information to local community as well as visitors to Skipton and Craven.
For more information about On Tour events being provided by Skipton Town Hall and Craven Museum, go to www.cravendc.gov.uk/skipton-town-hall
Town Hall development timeline
1862 – Skipton Town Hall is built on the site of the former vicarage of Holy Trinity Church.
1878 – Further work undertaken to create a more elaborate interior to the Concert Hall, including increasing stage height and including an upper tier of windows and an impressive plasterwork ceiling.
1895 - Skipton Urban District Council is created and buys the building for £4,500, replacing the "old town hall" on Sheep Street.
1903 & 1928 - Extensions built to rear of Concert Hall.
Early 1930s - Proscenium arch and new lighting added to the stage.
1972 - Museum extension built.
1974 – Craven District Council is created as part of the reorganisation of local government, and takes over Skipton Town Hall and the running of Craven Museum, which is now moved from the library across the road.
2015 – Craven District Council invests £770,000 in Skipton Town Hall to create a new accessible entrance from Jerry Croft, build new ground floor toilets, develop commercial units within the building, and install a new boiler.
2016 – An Arts Council grant of £250,000 is awarded to Craven District Council, allowing improvements to the Concert Hall facilities, including new blackouts, acoustic glaze, tiered seating, stalls seating, acoustic panels, sound and light systems, projector and screen.
2017 – £180,000 roof repairs take place, tiered seating is installed in the Concert Hall, the entrance hall is redecorated and new restaurant tenants Wildwood open on the ground floor.
2018 – The National Lottery Heritage Fund awards Craven District Council a grant of more than £1.5 million to transform Craven Museum.
2019 – The Concert Hall and Craven Museum close for redevelopment.