Captain Sir Thomas Moore meets council staff, charity workers, volunteers and schoolchildren in Craven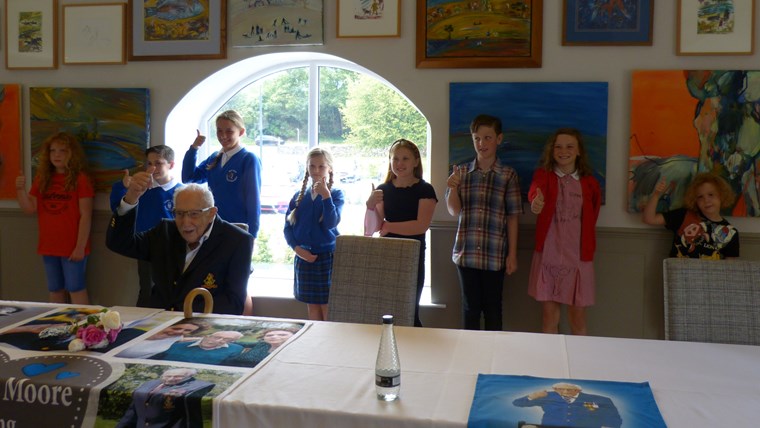 Captain Sir Thomas Moore met council staff, charity workers, volunteers and schoolchildren when he visited The Coniston Hotel Country Estate & Spa in Craven on Saturday.
The 100-year-old, who raised over £38 million for NHS Charities Together by walking laps of his garden, held a series of question and answer sessions alongside his daughter, Hannah Ingram-Moore, and grandchildren Benji and Georgia.
The family has recently launched the Captain Tom Foundation, with the mission "To inspire hope where it is needed most" – raising money to combat loneliness, support hospices and support those facing bereavement.
Craven District Council staff attended one of the Q&A sessions along with representatives from Skipton Food Bank and SELFA.
Captain Sir Tom told them: "Thank you all for coming. What we've done really is quite amazing and we never set out to do that. Thanks to everyone who's been so helpful. I'll go on walking while people are contributing money – all voluntary services need as much help as they can get.
"It's good to see people from Craven District Council here, it's a very local name and I'm glad to see that it's still going on.
"There are still a lot of people who are in need of help and you're all doing such a marvellous job."
Captain Sir Tom, who was born in Keighley, spoke about his passion and pride for Yorkshire.
"You couldn't be more Yorkshire than I am and never, ever will that change. There's no better place, we're number one in the world," he said.
He also talked about his new-found fame and being knighted. "The thing that stands out most is when I met the Queen. She was smiling and she was happy and she took her time to talk to all of us. She was absolutely delightful and charming. I will remember that for the rest of my days," he said.
"It's not every day you get knighted. I said 'I hope she's quite gentle with the sword' She must have heard me because she said 'I will be gentle'."
Other sessions were held throughout the day with groups including the emergency services, NHS and farmers.
Captain Sir Tom also took questions from local schoolchildren including "What's your favourite colour?" (red), "What was it like in the war?" and "When you were young, did anyone inspire you?"
He told the children: "It wasn't very nice in the war, but you've always got to think that things will get better and maybe tomorrow will be better than today. I hope we don't have any more wars.
"I was very pleased when it was over because it meant there would be no more bombing and no more people getting killed. When there is peace, it means that nobody's getting killed on either side. When there's a war innocent people get bombed and they're quite helpless."
Captain Sir Tom said his parents had been the most inspirational influence in his life.
"I had some very good parents and my mother and father were very kind and helpful people. They helped me throughout my life and taught me to be good and honest," he said.  
Councillor Simon Myers, Craven District Council's Lead Member for Enterprising Craven and ward member for Gargrave and Malhamdale, said: ''It was wonderful to see one of the greatest Yorkshiremen, Captain Sir Tom Moore and his family at Coniston on Yorkshire Day. His message of hope to all he saw that day reminds us to aspire to what is the best in all of us.''
To find out more about The Captain Tom Foundation go to www.captaintom.org