You are here:
Electric vehicle charging points are installed in Skipton's High Street car park
Electric vehicle charging points are installed in Skipton's High Street car park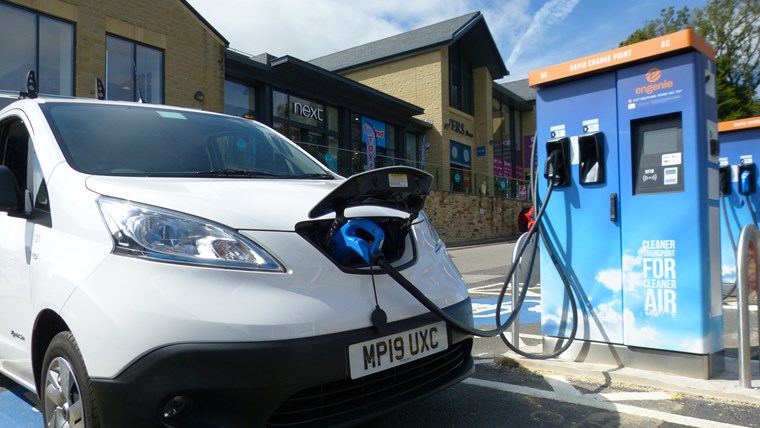 Craven District Council and Engenie have installed two electric vehicle charging points in the High Street Car Park in Skipton.
The contactless charging points have been installed as a pilot project and are the first council charging points in the district.
Powered by 100% renewable energy, the two 50kW chargers deliver 80 miles of charge in around 30 minutes, depending on the car and battery. They are compatible with all electric vehicles on the road, with two rapid (DC) connectors and a slower connection (AC) socket on the side for those wishing to stay a bit longer at the car park.
The chargers are simple to use: they accept normal contactless bank cards and don't require any sort of membership or account. There is no need to purchase a ticket whilst charging a vehicle, however there is a maximum stay of an hour.
Craven District Council's lead member for Greener Craven, Councillor Carl Lis, said: "We know there is a growing need for electric vehicle charging points as this mode of transport is becoming more popular and demand is likely to increase in the future.
"I'm delighted that in partnership with Engenie we have been able to install these charging points in the Council's High Street car park as part of our Climate Change Strategy."
Engenie's CEO, Ian Johnston, said, "Engenie are delighted to be providing Craven District Council's residents, businesses and visitors with user-friendly rapid chargepoints to keep them on the go. We congratulate the Council on taking this positive action following their declaration of a climate emergency last year.
"By enabling low-emission vehicles, these two new chargers will avoid over 3.5 tonnes of CO2 from entering the atmosphere (equivalent to planting over twenty thousand trees!) and contribute to cleaner air locally by avoiding 2.7 tonnes of polluting NO2."
Engenie are covering the cost of supply and installation of the charging points and infrastructure, around £70,000. The Council will receive a profit share of 15 per cent.
The charging points are located in bays opposite the Public Conveniences. Two new disabled bays have been created to make up for the loss of the two bays for the charging points.
Engenie's network of over 130 chargers is UK-wide across town centre, retail and major road locations, driven by partnerships such as here with Craven District Council.