Changes to waste collections over Christmas and New Year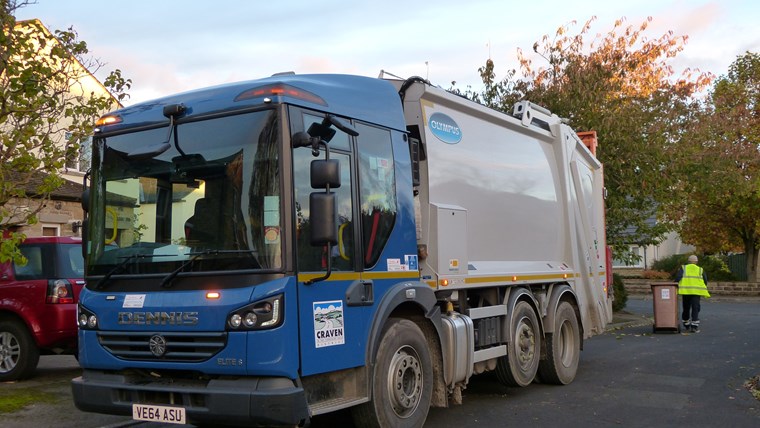 Craven residents and businesses are being urged to take note of changes to refuse and recycling collections, and council opening hours over the Christmas and New Year period.
The council offices will close at 3.45pm on Thursday December 19, and at 3pm on Tuesday December 24, and will then be closed until 9am on Thursday, January 2.
During the Christmas and New Year fortnight, there will be a number of changes to the domestic waste collections. Tags have been placed on all residents' bins informing them of these changes.
Collections scheduled for Tuesday December 24 will take place a day early, on Monday December 23. Collections scheduled for Christmas Day, Wednesday December 25, will take place a day early, on Christmas Eve, Tuesday December 24.
Collections scheduled for Thursday December 26 will take place on Friday December 27, and if your normal collection day would be Friday, December 27, your waste will be collected on Saturday, December 28.
The following week, collections scheduled for Tuesday December 31 will take place a day early, on Monday December 30. Collections scheduled for Wednesday January 1 will take place on Tuesday December 31.
Collections on Thursday January 2 and Friday January 3 will be unchanged, and domestic refuse collections will be as normal from the week beginning Monday January 6.
NORMAL COLLECTION DAY

REVISED COLLECTION DAY

Tuesday

24th December

Monday

 23rd December

Wednesday

25th December

Tuesday

 24th December

Thursday

26th December

Friday

 27th December

Friday

27th December

Saturday

 28th December
NORMAL COLLECTION DAY

REVISED COLLECTION DAY

Tuesday

31st December

Monday

 30th December

Wednesday

1st January

Tuesday

 31st December

Thursday

2nd January

No change

Friday

3rd January

No change
These details are all available on the council website at http://www.cravendc.gov.uk/christmasbins and residents can also check their collection times by using the website search function at www.cravendc.gov.uk/your-area
There will also be some changes to commercial waste collections, and customers are being emailed advising them of their collection dates.
This year the council will not be providing a free collection service for Christmas trees. This is due to limited take-up in previous years and a lack of economic and environmental benefit.  
Householders can also take their old Christmas trees free of charge to the Household Waste Recycling Centres at Skibeden, A59 Harrogate Road, Skipton or Sowarth Field Industrial Estate, Settle.
These sites are open six days a week from 8.30am to 4pm, throughout October to March (excluding Christmas Day, Boxing Day and New Year's Day). These sites are closed on Wednesdays.
Sue Ryder Manorlands is also offering Christmas tree collections in return for a donation, in the South Craven area, and central Skipton, Grassington, Embsay and Gargrave. To find out more about these collections go to https://www.sueryder.org/christmastree or call 01535 640445.
Residents can continue to recycle their paper and cardboard, glass, cans, plastic bottles and cartons over the festive season using the council's kerbside collection schemes.
For helpful tips on how to reduce the amount of waste produced over the Christmas and New Year period, please visit www.cravendc.gov.uk/christmasrecycling