Craven District Council bids for £5.8 million to improve transport links in Skipton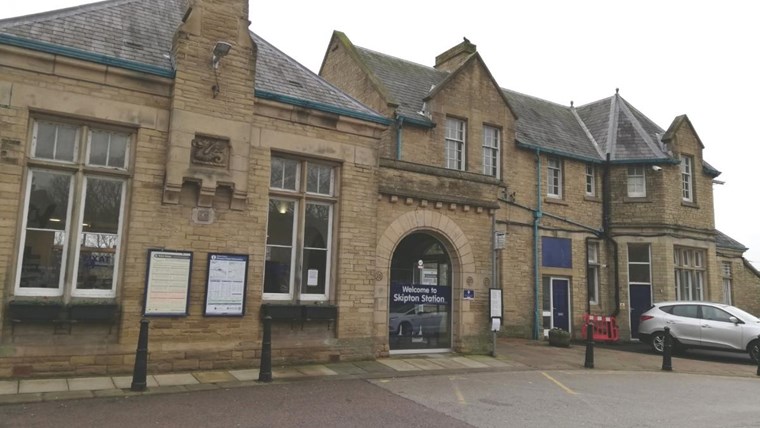 Craven District Council is proposing a £5.8 million package of investment in transport links in Skipton, including improvements to the railway station gateway to the town.
The scheme includes improving the entrance, forecourt and public space around the railway station, creating an 'active travel corridor' along Broughton Road including cycle lanes, creating better footpaths between Skipton Railway Station and Craven College, and improving the Black Walk and Gallows bridge connection from the railway station to the bus station.
Councillor Richard Foster, leader of Craven District Council, said: "This bid aims to encourage investment in the town, promoting economic growth by making it a more attractive place for businesses and employees.
"This will help us address key issues in the district, attracting younger people and families, and improving access to employment and training opportunities.
"We hope this scheme will also help our communities to choose more sustainable, greener and healthier forms of transport. We want to encourage walking and cycling and public transport in the district and these proposals will help make these options far more attractive."
The Skipton scheme is part of a £1/2 billion-plus bid from Leeds City Region to the Government's Transforming Cities Fund.
If successful, the funding will result in over 1,100 new jobs being created in the region, and £1 billion being added to the local economy. It will also mean a reduction of up to 15,000 tons of CO2 emissions from transport by 2036, which will help the City Region become carbon neutral and tackle the climate emergency.
West Yorkshire Combined Authority has developed the bid in partnership with district partners, Bradford, Calderdale, Craven, Harrogate, Kirklees, Leeds, North Yorkshire, Selby, Wakefield and York councils.
It also includes major works to the front of Leeds rail station, improving access for people travelling by foot or on bike, and plans to transform Bradford city centre to reduce traffic and improve air quality and improve links between its Interchange and Forster Square rail stations. A new park and ride to the south of the city will ease congestion and boost investment.
The Leeds City Region bid will deliver sustainable transport that is essential to enable everyone to access skills and job opportunities, tackle the climate emergency and raise productivity across the Leeds City Region.
Cllr Kim Groves, Chair of the West Yorkshire Combined Authority Transport Committee said: "Clean, sustainable public transport, walking and cycling are the focus of the Leeds City Region Transforming Cities Fund bid.
"The schemes in the Bid are in line with our Transport Strategy and will complement the significant investment we are already making through the West Yorkshire-plus Transport Fund and the Connecting Leeds programme as well as our emerging plans for mass transit.
"Our Transforming Cities Fund bid aims to engender a transformational change in behaviour, by providing people across West Yorkshire and the City Region with opportunities to make reliable, safe and attractive journeys by using public transport and by walking and cycling.
"We have taken a holistic approach to putting this Transforming Cities Fund bid together to ensure the measures it contains will deliver significant benefits for as many people as possible across the City Region."
Details of the West Yorkshire Combined Authority bid, including the Did Document, the Vision and the Executive summary are at www.westyorks-ca.gov.uk/transforming-cities-fund