You are here:
Former Craven District Council chairman donates over £2,200 to Yorkshire Air Ambulance
Former Craven District Council chairman donates over £2,200 to Yorkshire Air Ambulance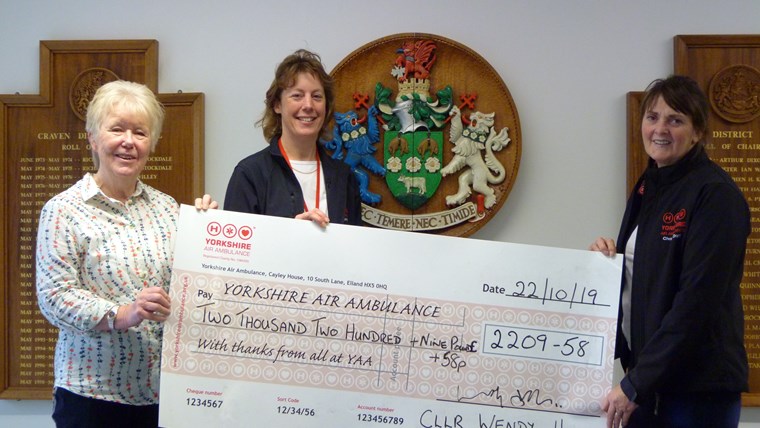 Councillor Wendy Hull, Craven District Council chairman in 2018-19, has presented a cheque for £2,209.58 to the Yorkshire Air Ambulance.
The money was raised during Councillor Hull's year in office, through schemes including the Chairman's Charity Swim and council staff raffles.
Councillor Hull said: "A huge thanks to everybody for all their fundraising efforts. It has been really appreciated and I'm delighted to be donating this money to the Yorkshire Air Ambulance for the fantastic work they do, saving lives on our roads and hillsides.
"We're very grateful for the outstanding service they provide across the whole area."
Yorkshire Air Ambulance Regional Fundraiser, Linda Stead, collected the cheque on behalf of the charity, and said: "We have to raise £12,000 a day to keep our two helicopters flying and saving lives across Yorkshire. We're very grateful for this generous donation – it's fantastic. Without donations such as these, we wouldn't be able to run this service at all."
One swimmer, Clare Danek, managed to raise more than £500. She said: ""I took part in the 2019 Chairman's Charity Swim Challenge as I fancied a new year challenge and a reason to get in the pool regularly during the cold winter months.
"I didn't think I could swim 32 miles as I'm not a particularly strong swimmer, but I thought it was worth a go, and towards the end of the challenge I was swimming much further each session than I'd imagined possible - and feeling much stronger as well. I was also motivated by swimming to raise money for such a good cause - who knows when any of us might need the services of the Yorkshire Air Ambulance?"
The Yorkshire Air Ambulance is an independent charity providing a life-saving rapid response emergency service to 5 million people across the whole of Yorkshire.
The service is operational seven days a week, 365 days a year. The Charity currently attends over 1,000 incidents a year, an average of four incidents every single day. Last year they attended 1,858 incidents and carried 416 patients to hospital for emergency treatment.
The YAA currently operates two helicopters – one based at Nostell Air Support Unit, near Wakefield and the other at RAF Topcliffe, near Thirsk.
To keep both of Yorkshire's Air Ambulances maintained and in the air, the YAA needs to raise £12,000 every single day, which is the equivalent of £4.4m a year.
To find out how to donate to the Yorkshire Air Ambulance, please visit www.yaa.org.uk.