Craven is in Tier 2 – High Alert – from December 2nd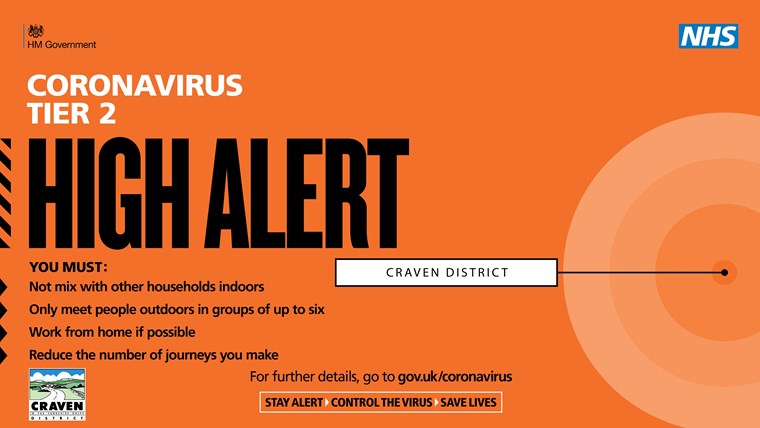 Craven, along with the rest of North Yorkshire and York, is in Tier 2 (High Alert) of the Government's new Covid-19 alert levels from December 2.   
Shops and leisure centres, including Craven Leisure, will be able to reopen from December 2.
However a number of restrictions will still be in place. Pubs and bars must remain closed, unless they are operating as restaurants.
Hospitality venues can only serve alcohol with substantial meals and are required to provide table service only if they sell alcohol, and must close between 11pm and 5am.
Indoor household mixing is still banned and you must not socialise in a group of more than six people outside, including in a garden or a public space.
For full details on Tier 2 restrictions, go to https://www.gov.uk/guidance/local-restriction-tiers-what-you-need-to-know
The Council is currently running two grant schemes for businesses affected by the national lockdown measures. These are available for applications at www.cravendc.gov.uk/coronavirus
Councillor Richard Foster, Leader of Craven District Council, said: "I would like to thank all residents for doing their bit to reduce the rates of Covid-19 in our district.
"While rates of infection are now dropping, unfortunately across the whole of North Yorkshire and York, rates and hospital admissions with Covid-19 are still too high, and this is reflected in the Government's decision to place the whole area into Tier 2.  
"The Government has said today that the tiers will be reassessed on December 10 and any changes implemented on December 16. For us to drop into Tier 1 and get the additional freedoms that go with that we must continue to show improvement.
"So let's keep up the good work, follow the guidelines, and let's get Craven to Tier 1 as soon as possible.
"We know only too well that many of our local businesses will continue to struggle under these restrictions and we are working hard to help those in need. Please also support local businesses safely where you can – they need your custom.
"Please continue to follow the restrictions – stay apart from other households, wash your hands, and wear a face covering. If you have Covid-19 symptoms, self-isolate and get a test. And if you test positive for Covid-19, please self-isolate for the full 10 days."
Craven Leisure will reopen from December 2, but swimming lessons will not resume until after the New Year. A new timetable will be in place from December 2 – check the website at www.cravendc.gov.uk/craven-leisure for more details.
Craven District Council's Customer Services reception will also reopen on December 2 and will then be open between 9am and 1pm, Mondays, Tuesdays, Wednesdays and Fridays, and from 9.15am to 1pm on Thursdays. The Council's phone lines will operate as normal on 01756 700600.
Skipton's Information and Visitor Centre will reopen on December 2 and normal hours will then resume - Monday to Saturday, 9.30am to 4pm. The centre will be running a Winter Sale with up to 20% off most products in the shop.
Settle's Tourist Information Centre will reopen on December 2 and will then be open on Mondays, Tuesdays, Fridays and Saturdays from 9.30am to 1pm.
Council and committee meetings will continue to operate remotely.
The Council is in regular contact with Public Health England to ensure the very latest guidance is communicated and implemented, as the situation continues to develop.