Skipton Covid-19 testing site opens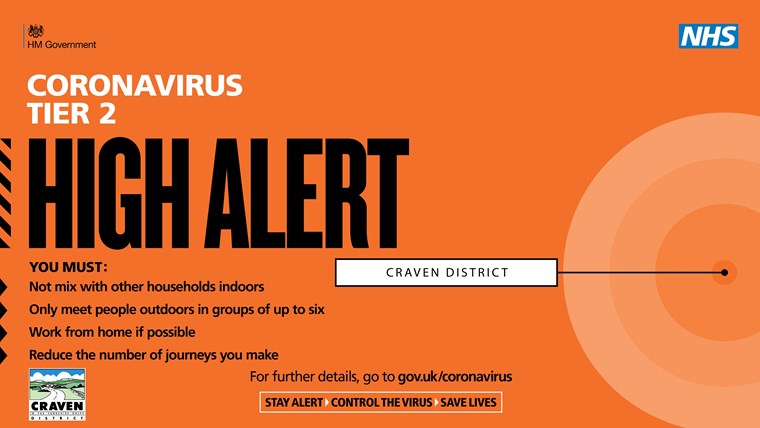 A permanent Covid-19 local testing site opened in Skipton on Saturday, 12 December, to support the ongoing expansion of Covid-19 testing. 
The site joins those already operating in Harrogate, Northallerton, Scarborough and Selby. These are in addition to the mobile testing units that are regularly deployed around the county.
The Skipton site is in Cavendish Street car park, which is now closed to motorists. Craven District Council has written to the car park permit holders advising them of the closure and requesting them to use Coach Street car park instead. Nearby businesses and residents have also been written to.
North Yorkshire Local Resilience Forum has worked with the Department for Health and Social Care (DHSC) to secure these locations for walk-in testing sites. The Skipton site will be operated on behalf of the DHSC by G4S.
The sites greatly increase capacity for testing in North Yorkshire. They are indoors and allow walk-in appointments. People do not need to arrive in a vehicle, unlike drive-through mobile testing units where testing is inside a vehicle. Local testing sites offer Covid-19 testing from 8am to 8pm, seven days a week. Appointments must be booked in advance. Book a test on the County Council's website, www.northyorks.gov.uk/book-coronavirus-covid-19-test, or by calling 119.
Local testing sites take bookings from within a radius of 10 miles. Mobile testing units will continue to run alongside these with a range of 75 miles.
Richard Flinton, chief executive of North Yorkshire County Council and chair of North Yorkshire Local Resilience Forum, said: "If you have Covid-19 symptoms, it is very important that you book a test. Testing is a vital element in the efforts we all need to make to reduce the infection rate as much as we can before Christmas.
"The opening of the Skipton site will further enhance North Yorkshire's testing capabilities.
"The greater testing capacity enables us to exert more control over the spread of this virus and to make the best use of resources by releasing mobile testing units to the places that need them most."
Councillor Richard Foster, Leader of Craven District Council, said: "It's important that we play our part in providing better access to coronavirus testing, so that everyone with symptoms can get a test.
"The layout of the site will be carefully designed to ensure people can move around safely and prevent spread of the virus.
"A number of measures will be in place, including social distancing, personal protective equipment on site, a strict cleaning regime and designated areas for testing. All efforts are being made to reduce any disturbance or inconvenience to local residents and businesses, and signage will be put in place to direct any potential users of the car park to Coach Street Car Park."
People are urged to self-isolate from the onset of Covid-19 symptoms or from when instructed to do so by the NHS test and trace service and to continue to self-isolate while waiting for a test result. Details of support for residents in self-isolation can be found on online. More information on testing and coronavirus is available at https://www.nhs.uk/conditions/coronavirus-covid-19 and www.northyorks.gov.uk/coronavirus or www.northyorks.gov.uk/help-you-during-coronavirus-covid-19