Craven Community Champions Awards 2018 – the winners!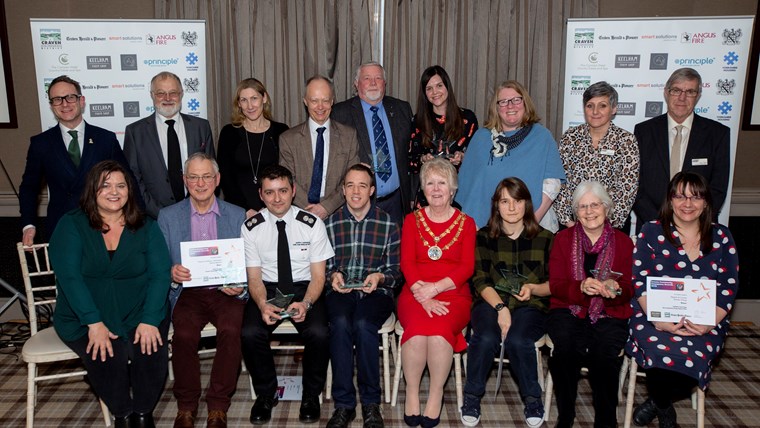 The winners of the seventh annual Craven Community Champions Awards were announced at a glittering ceremony at Coniston Hotel on February 21.
The event, run by Craven District Council and the Craven Herald, celebrated the achievements of the amazing people who help make Craven's communities stronger.
Chris Porter was named Citizen of the Year. He has volunteered tirelessly for more than 10 years as a self-advocate, improving the lives of his peers who have a learning disability and/or autism. Chris also volunteers at Oxfam, at South Craven Community Library and with Exclusively Inclusive.
Chris said afterwards: "I can't really believe I'm Citizen of the Year. I wasn't expecting this award. It makes me feel that I belong in the community where I live. I get a lot out of volunteering and I enjoy giving something back and making a real difference."
The Citizen of the Year Award was sponsored by Yorkshire Housing. Chris was also a runner-up in the Volunteer of the Year Award, along with Marielyn Geddes, who has headed up the lunch club at Skipton Baptist Church for the past 20 years.   
The Volunteer of the Year Award, sponsored by Angus Fire, was won by Martyn Hughes, a retained firefighter in Craven who has thrown himself into the task of raising money for the children's charity Candlelighters, in support of a local boy William Bramley.
Martyn said: "I feel extremely humbled to be a part of the 2018 Craven Community Champions Awards. Just to be shortlisted against so many magnificent and dedicated people from throughout the Craven community is a real honour, let alone to win an award that arguably could easily have gone to and been thoroughly deserved by any of the nominations.
"The awards ceremony both acknowledges those who continually go over and above the average day to day person, yet also identifies and provides awareness of the many fantastic teams and individuals from throughout our community."    
The Young Citizen of the Year Award, sponsored by the Coniston Hotel, was won by Katie Tutty, a Young Leader with Cubs, who also fundraises with the Scouts, and is an enthusiastic volunteer at Skipton Library.
Katie, aged 16, said: "It was great to be recognised for the work I've done. I really enjoy volunteering and I look forward to doing more in the future."
Oliver Webster, a keen volunteer with Exclusively Inclusive, and the Settle Skate Park youth group, were runners-up.
The Arts & Culture Award, sponsored by Alexander's Bar and Kitchen, was won by Cantores Salicium, a chamber choir that has raised money for a number of local projects including Long Preston Church, Kirkby Malham Church, the Yorkshire Dales Millennium Trust and the Cave Rescue Association.
Lindy Williams, conductor of the choir, said: "I'm absolutely thrilled to bits on behalf of the choir. I'd like to congratulate the other two shortlisted groups as well because they sound absolutely wonderful. This award is for the choir members who do all the hard work. We're absolutely delighted and it will spur us on to do more work in the community in the future."
Runners-up were Skipton Community Orchestra and the Skipton Embroiderers' Guild.
The Greener Craven Award, sponsored by Smart Solutions, was won by Friends of Embsay with Eastby Nature Reserve – a group who have transformed the nature reserve, making it more accessible while retaining an important wildlife habitat.
Sarah Copeland, a member of the group, said: "We're committed to protecting the green corridor in Embsay and we're thrilled that our work to make the area more accessible has been recognised. We have big plans for the future to continue the work we're doing to welcome more people into this beautiful natural space."
Runners-up for the Greener Craven Award were the Craven Crew, part of the North Yorkshire Rotters project, and Marion Armstrong, of Cultivating Settle.
The Sports & Recreation Award, sponsored by Principle Healthcare Group, was won by North Ribblesdale RUFC – a rugby club based in Settle which has recently transformed its second pitch, providing fit-for-purpose facilities so all club members can benefit throughout the year.
Alan Simpson, chairman of the club, said: "This is a tribute to all the hard work of all the volunteers at the club. We have so many volunteers who work tirelessly for the club, all the coaches and ground staff. We've put in a lot of work to ensure that the youngsters get continuous rugby throughout the winter months."
Ian Longden, of Skipton Juniors FC, and Skipton Tennis Club were runners-up for the sports award.
The Health & Wellbeing Award, sponsored by the Broughton Hall Estate, was won by Cancer Support Yorkshire's Skipton Centre, which was set up in August 2014 and has supported almost 1,000 people who have been affected by a cancer diagnosis.
Helen Gatiss, Client Support & Community Engagement Advisor at the centre, said: "We are celebrating our fifth anniversary this year at the centre in Skipton, so this award is fantastic recognition of the work we have done raising awareness of the wellbeing support that's available to our community. We're proud to be able to help local people through their cancer journey."
Ruth O'Brien, who runs the Age UK North Craven lunch club, and the Practice Health Champions, who work in partnership with Fisher Medical Centre in Skipton, were runners-up.
Best Community Group, sponsored by Keelham Farm Shop, was won by Skipton and Craven Parents Group. Formed in January 2016 as a Facebook group, they also run their own weekly toddler session and arrange parent workshops and social evenings.
Charlotte Kelsey, founder of the group, said: "We are delighted to receive this award. When we started the group back in 2016 we never thought it would become so big let alone a registered charity. We really enjoy what we do and have a lot of fun together running and organising our sessions. We have a lot planned for the future and winning this award will help raise our profile within the community and help us to access funding to provide more exciting projects for our local families. All I can say is watch this space!"
Runners-up were Skipton Community Orchestra and the Greatwood and Horse Close Residents Association.
The judging panel was made up of Councillor Wendy Hull, chairman of Craven District Council, Julian Smith MP, Vivien Mason, of the Craven Herald, Councillor Linda Brockbank, Lead Member for Resilient Communities, Andrew Cropley, Principal of Craven College, and Mark Hopley, of Community First Yorkshire.
Councillor Hull said: "It was really inspiring to hear such a wide range of contributions being made across the district, across ages and interests, a massive diversity of support and fun available. It's really something to be proud of in Craven. Thank you to all those who were put forward and very well done to everybody who entered, particularly the winners, who clearly make an outstanding contribution."
The table decorations at the event, kindly provided by Keelham Farm Shop, were raffled, raising a total of £92 for the Chairman's Charity, the Yorkshire Air Ambulance.
To see videos of the winners and runners-up, click here: Craven Community Champions Awards 2018