Women embrace diet and exercise with Healthy Lifestyles scheme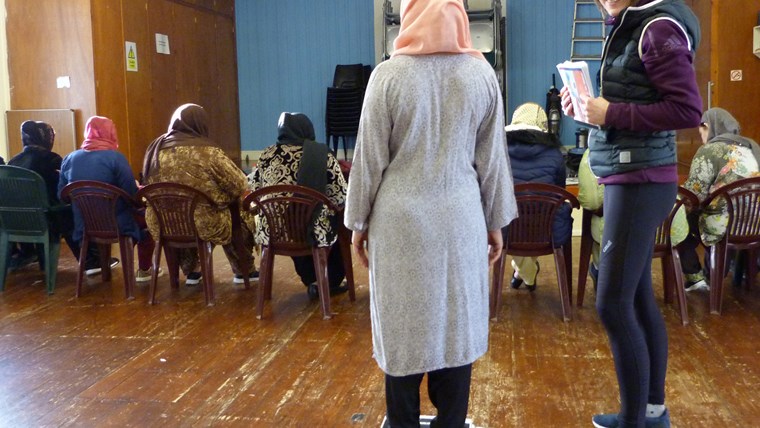 A group of women in Skipton are improving their diet, fitness and confidence with the Healthy Lifestyles scheme.
The women-only classes are held at Broughton Road Community Centre every week and have been a great success.
The Healthy Lifestyles programme is run by Craven District Council and funded by North Yorkshire County Council.
Sessions for men and women are also available at Craven Leisure, Gargrave Village Hall, Dyneley Surgery, Giggleswick School, Belle Vue Square, Skipton, Skipton Town Hall Hub, and North Ribblesdale Rugby Club in Settle, on various days and times throughout the week.
The 12-week programme combines exercise with nutritional advice, along with free access to a range of facilities at Craven Leisure, and is run by a team of qualified instructors.
Naseem Aziz has been attending the Broughton Road group since October 2018 and hit her weight loss target after 12 weeks. She has lost a total of 1 stone 1lb.
She said: "It's building the confidence that we never had. I've really enjoyed it, not just myself but the other ladies have really grown in confidence to go swimming and walking. It's given us more confidence in lots of different ways. It was a really good opportunity and I would recommend it to anybody."
Naseem is now on the 12-week maintenance programme, for those who have achieved their five per cent weight loss target, which includes ongoing nutritional advice and a further 12 weeks of free access to a range of exercise facilities.
Parven Ali also started the programme in October 2018 and is on the maintenance programme. She has lost a total of 1 stone. "It's been really good. It's built up my confidence and helped me know what to eat," she said.
"There's a bit of a competitive side to it as well! Me and my friend have been walking together for ages but this has motivated us to do different routes and find out more about healthy eating. We look at the labels on packets now and look at what's got the highest sugar and fat. I've really enjoyed the programme, it's very motivating and it keeps you going."
Participants are weighed at the start of each session and are given advice on nutrition and healthy eating. An exercise circuit is also set up in the hall with a range of different activities.
Class instructor Hannah Storey said: "They take it at their own pace and do as much as they can. There are different options for those who aren't as mobile."
There are currently nine people on the initial programme and eight on the maintenance programme at the Broughton Road centre.
"This group has done very well," said Hannah. "They turn up every single week and that's important to get that consistency. They're doing really well and it just goes to show how you can get results by coming along every week."
Those who continue to maintain their five per cent weight loss target at 24 weeks will receive a month's free full membership at Craven Leisure with a further three months at a discounted rate.
A total of 280 people completed the 12-week scheme last year across the district.
Stephanie Harrison, Healthy Lifestyles Coordinator at Craven District Council, said: "We're really proud of all those who have done so well throughout this programme. We've been extending this programme to new venues across the district, providing people with a great opportunity to get fit and healthy.
"We know that losing as little as five per cent of your body weight can have hugely positive effects on the mind and body; it can ease pressure on joints, help prevent Type 2 diabetes, lower cholesterol, ease high blood pressure, reduce risk of cancers, and improve sleep and mood."
GPs can refer patients to the scheme, or residents can sign themselves up.
The scheme is open to people over the age of 18, with a BMI equal to or greater than 25. Patients are not eligible for the programme if they are pregnant, or breastfeeding, have an eating disorder, have an underlying medical cause for obesity, have a significant unmanaged co-morbidity or complex needs, or have had bariatric surgery in the last two years.
To find out more about the scheme, please email healthylifestyles@cravendc.gov.uk or call 01756 792805. More information is also available at www.cravendc.gov.uk/craven-leisure