Craven Community Champions Awards 2019 – a tribute to Pat Wardman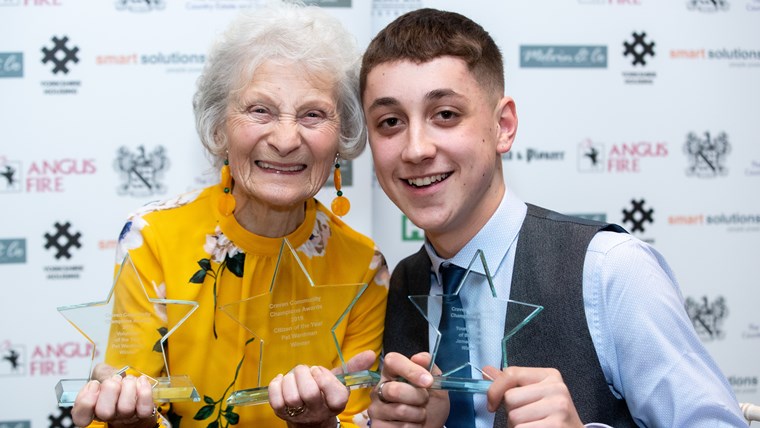 Photo: Pat Wardman and James Sabin (photo by Stephen Garnett) 
The winners of the eighth annual Craven Community Champions Awards were announced at a glittering ceremony at Coniston Hotel on Thursday February 13.
Pat Wardman, 90, who was named Citizen of the Year and Volunteer of the Year, sadly died suddenly a few days after the ceremony.
Pat volunteered for Age UK North Craven for 30 years, and at the age of 90, she was an amazing ambassador for older people and helps alter perceptions of what is possible in older age.
Paul Shevlin, Chief Executive of Craven District Council, said: "We are all deeply saddened to hear the news about Pat Wardman. She was an inspiration to us all, and lit up the awards evening with her warmth and energy. Our thoughts are very much with her friends and family at this sad time."
The Craven Community Champions Awards, run by Craven District Council, with Holt Doctors as associate sponsor, celebrate the achievements of the amazing people who help make Craven's communities stronger.
Pat had been delighted to win and said after collecting her awards: "I'm so surprised! I just want to thank everybody that's helped me, because you can't do these things alone. I also want to thank my husband Ronald, who's 94 and he's looked after me all these years."
The Citizen of the Year Award was sponsored by Yorkshire Housing. Pat was also winner of the Volunteer of the Year Award, sponsored by Angus Fire. Runners-up for this award were Gerald Townson, who has helped improve railway stations and services along the Lancaster, Morecambe, Skipton & Leeds line, and Peter Hargreaves, a dedicated volunteer for Carers' Resource in Skipton.
To see videos of all the shortlisted groups and individuals, click here.
The Young Citizen of the Year Award, sponsored by the Coniston Hotel, was won by James Sabin, who lost his older brother to an accidental drug overdose in 2013 and now volunteers with the charity DrugFAM to raise awareness of the dangers of drugs.
James said: "I'm really pleased to win the award. I hope my brother's looking down on me and is proud. I also hope this will help raise awareness of DrugFAM – if anyone needs help then please call the DrugFAM helpline on 0300 888 3853."
Runners-up were Lily Davison, a volunteer with Skipton Juniors FC and Skipton Library; Torin Zieboll, who set up a cancer support group at his school Ermysted's, and was selected to be a member of the Youth Parliament; and Joe Howard, a volunteer with the SELFA charity.
The Arts & Culture Award, sponsored by Alexander's Bar and Kitchen, was won by Settle Amateur Operatic Society. The Society has been running for 140 years, promoting drama and musical theatre in the community and establishing a youth group to give young people the opportunity to perform in front of audiences and develop their interest in arts and music.
Pat Harding, director of the group, said: "We're delighted, thrilled – we didn't expect to win but it's great to do so in our 140th year. The kids in the group are amazing and it's brilliant to see them blossoming."
Runners-up were the Upper Wharfedale Arts & Literary Society, and Jess Mahler, conductor of Skipton Community Orchestra.
The Greener Craven Award, sponsored by Smart Solutions, was won by Craven Crew, part of the North Yorkshire Rotters project; a group of six volunteers who have given their time to promote and teach about the benefits of reducing food waste, home composting and recycling for over six years.
Joan Nicholson, of the Craven Crew, said: "We're very pleased and proud to win the award. The North Yorkshire Rotters do an amazing job promoting what we need to do to clean up the environment, and we look forward to carrying on for many years."
Runners-up for the Greener Craven Award were the Langcliffe Beekeepers, and Plastic Free Skipton.
The Sports & Recreation Award, sponsored by Melvin & Co Skipton, was won by Sutton Juniors Football Club. Since 1998 the Club has grown from a single team club to the largest Charter Standard Football club in Craven with over 250 players in 20 teams across a range of ages. The club recently secured a new high-quality, permanent football venue at Malsis Hall.
Craven Gymnastics Club were runners-up for the sports award, as was Ji Mukherjee, of Skipton Tennis Club, Skipton Cricket Club and numerous other sporting organisations.
The Health & Wellbeing Award, sponsored by the Broughton Hall Estate, was won by Neville's Kitchen. Run by volunteers in the Yorkshire Housing Community Hall in Gargrave, Neville's Kitchen provides three-course cooked midday meals on site and also to nearby housebound elderly residents.
Carol Mercer, who runs Neville's Kitchen with Carys Roberts, said: "We just want to say a big thank you to all the volunteers that have supported us over the years, because without them, we couldn't do it. Thank you to the people along the way that have believed in us and supported us, and of course the people that come to the lunch club."
Skipton Wellbeing Café, which runs at St Andrew's Church, and SELFA Mindful, a group supporting young people to improve their mental health, were runners-up for the Health & Wellbeing Award.
Best Community Group, sponsored by Keelham Farm Shop, was won by the Friends of Aireville Park; a group of local people who have come together to improve their local park and create opportunities for everyone to enjoy it. In 2019, a wonderful new children's play area was opened.
Fiona Protheroe, chairperson of Friends of Aireville Park, said: "We're really pleased to receive this award, which celebrates the achievements of everybody that's contributed to making the new play area a reality. The whole community has joined together to make this possible."
Runners-up in the Best Community Group category were Skipton Foodbank and Skipton Rotary Clubs.
The judging panel was made up of Councillor Paul Whitaker, chairman of Craven District Council, Vivien Mason, of the Craven Herald, Councillor David Ireton, Lead Member for Resilient Communities, Kevin Williams, of Craven College, and Mark Hopley, of Community First Yorkshire.
Councillor Whitaker said: "These awards are always truly inspiring – it was fantastic to hear about all the voluntary work that goes on across the district to improve the lives of our residents. We are extremely grateful to all those who give their valuable time to provide support and improve the wellbeing of their fellow residents. We are proud to live in such a wonderful place as Craven, where there are so many generous people who make our district so special."