Craven District Council launches new website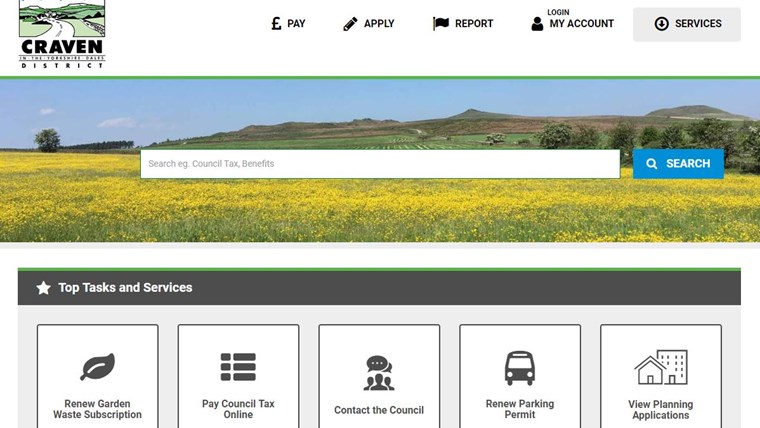 Craven District Council has launched a new website on January 9, 2018, to provide better online services for residents, businesses and visitors.
The website has been designed to make it easier for residents to find information, pay bills and report any issues.
The new website platform, provided by Skipton-based IT consultancy Meritec, will also save the council money – approximately £10,000 over the next five years. 
The site will be more mobile-friendly, and a new feature called "My Account" will be rolled out meaning that residents can log on to the website and view any transactions they have had with the council.
Councillor John Dawson, Craven District Council's Lead Member for Internal Services, said: "More and more residents are choosing to use our website, with more than 772,000 user sessions in 2016.
"Over half of these are using tablets and mobiles and it's essential that we make sure our website is easy for people to navigate, whatever device they are using.
"We also want to make it easier for residents to make payments, ask for assistance and view their interactions with the council.
"The old website is dated, having been created in 2011; we hope this new website will be more attractive and straightforward for people to use. We have changed the structure of the website so it will make more sense to residents and it will be easier for people to find the information they are looking for.
"The new website platform will save the tax-payer money and we anticipate that as more people use the website rather than telephoning or writing to the council, there will be further efficiency savings.
"We hope residents will welcome these changes but if there are any issues with the new site, as there sometimes can be with the introduction of new technology, we encourage people to get in touch and let us know." 
The new council website will be available at the same web address: www.cravendc.gov.uk.
If any residents would like to report any issues regarding the new website, they are asked to email websiteadmin@cravendc.gov.uk