Skipton town centre canal project approved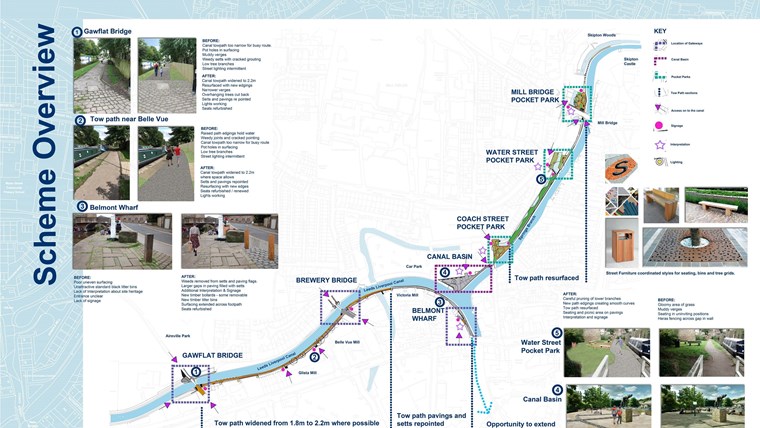 Plans to improve the canal waterfront in Skipton town centre have been given the go-ahead by councillors.
The £320,000 project is being funded by the Local Growth Fund, awarded by the York, North Yorkshire and East Riding Local Enterprise Partnership.
Craven District Council's Policy Committee approved the draft scheme of works at a meeting on Tuesday July 24.
Improvements include resurfacing and widening the towpath where possible, replacing, relaying and repointing the existing York stone flags, adding more seating, bollards and litter bins, new signage, decluttering underused street furniture, improving the seating at the Water Street Pocket Park, and vegetation management.
Councillor Simon Myers, Craven District Council's Lead Member for Enterprising Craven, said: "The Leeds Liverpool Canal waterfront is a crucial part of Skipton town centre, attracting visitors to the town and providing a traffic-free route to residential, educational and leisure services in Skipton.
"The quality of the canal environment in the town centre has naturally declined over the years and it is time improvements were made. Skipton needs to maintain the attractive waterfront that residents and visitors expect.
"We consulted with residents on the proposed works and we are confident that this scheme will enhance the beautiful environment in Skipton town centre."
A total of 60 people responded to a public consultation and these responses have been used to refine the final scheme produced by landscape architects Newground.
The council's Director of Services, in consultation with the Solicitor to the Council, will now seek and enter into the required consents from relevant statutory organisations to enable the scheme to be delivered.
Councillors also agreed that an additional £140,000 of the Local Growth Fund money should be used to part-fund towpath improvements along the section of canal next to Broughton Road.
Craven District Council has already agreed to contribute £225,000 to a scheme to improve the stretch of towpath between Gargrave and Kildwick, and the Government is currently considering a bid by the Canal & River Trust for £1.46 million to improve this section of the canal path.
Craven District Council has been awarded a total of £5 million from the York, North Yorkshire and East Riding Local Enterprise Partnership to deliver the Skipton Housing and Employment Growth project.
The rest of the project includes the creation of a new road linking the end of Ings Lane with the road network, improving pedestrian routes from the Railway Station to key destinations, preparation of a masterplan for the re-development of the area surrounding the Railway Station, and remediation of the Council's Waste Depot on Engine Shed Lane in readiness for the development of business space.