You are here:
Armed Forces Flag lowered in ceremony at Skipton Town Hall
Armed Forces Flag lowered in ceremony at Skipton Town Hall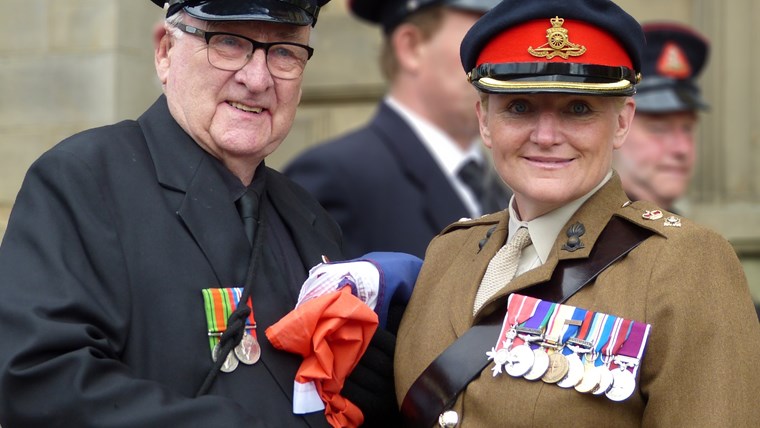 The Armed Forces Flag was lowered in front of crowds at Skipton Town Hall during Sheep Day on Sunday July 7.
Veterans from the Royal British Legion gathered for the ceremony in Skipton High Street, hosted by Craven District Council chairman, Councillor Paul Whitaker.
He said: "Armed Forces Day is the chance for us all to show our support to the men and women who make up our Armed Forces Community, from currently serving troops to Service families, veteran and cadets.
"It is worth remembering that our Armed Forces work to defend the UK and its interests around the world
"I would like to thank everyone for attending and taking part today including Col Sam Shepherd, members of the Yorkshire Gunners Regiment, the Haworth Home Guard, the Royal British Legion, the Royal Air Force Association and Skipton Town Council."
The Reverend Roger Lowans, of Holy Trinity Church, led a short service and the flag was lowered at 4pm at Skipton Town Hall.
The flag was presented by Lt. Col. Sam Shepherd to the Royal British Legion Bugler David Ellis.
Mr Ellis, 84, who lives in Skipton, joined the Life Boys at the age of 10 where he started to play the bugle. He later joined the Boys Brigade where he won the Silver Bugle three years in succession.
In 1955 he was called up for National Service where following his basic training at Catterick he was attached to the Army Catering Corp.
For over 40 years, David has been an active member of the Royal British Legion at Crosshills, Ilkley, Addingham and Skipton. Throughout this time David became the Band Master to four different Boys Brigade Bands and a Girls Brigade Band. He was appointed Divisional Band Master and was part of the National Band committee. David also won an award for Services to the Royal British Legion.
A trained engineer, David spent the majority of his working life in the bus industry. Over the years he has volunteered to play his bugle at hundreds of funerals for ex-servicemen and women.
The Armed Forces Week events were organised by Craven District Council, Skipton Town Council and the Royal British Legion Skipton Branch.