Skipton town centre canal project set to begin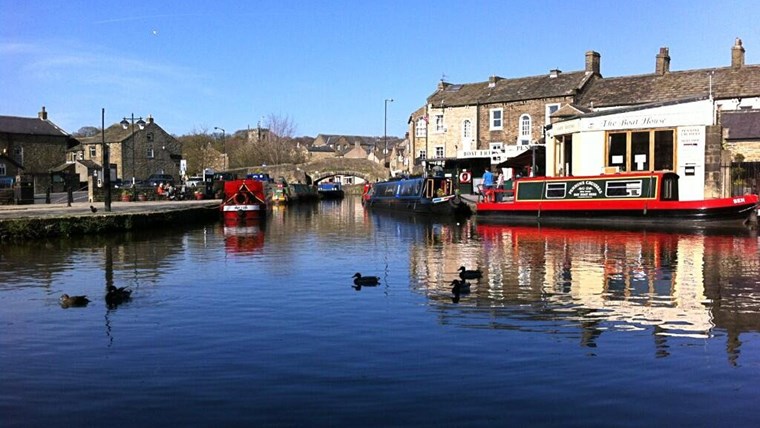 Work to improve the canal waterfront in Skipton town centre is due to begin this month. 
The works will be carried out along the Leeds & Liverpool Canal in three phases starting with the canal basin from July 8. The works will include laying new, York stone flags across the entire area to ensure that the canal basin continues to be an area of high quality open space that can also support events and festivals in Skipton.
Benches, planters and bins will also be replaced to match existing street furniture along the canal towpath. The statue of Fred Trueman will remain in its current spot but with a new plaque honouring the Yorkshire cricketer. The canal basin work will be completed by September 20, in time for the Skipton Puppet Festival in early October.
The existing benches will be reused across Skipton by both Craven District Council with some donated to Skipton Town Council and the planters will be planted and maintained with the support of Skipton in Bloom.
Also, from July 8, work along the Springs Branch will take place, including towpath resurfacing, installation of new benches and bins, and footbridge painting. Works will also improve the area of open space near Chapel Hill with refurbished benches and areas of stone setts. This work is due to finish by August 23.
Improvements along the main canal towpath, between Belmont Bridge and Gawflat Bridge, will start from September 2, immediately after the school summer holidays, and will be completed by October 25. This will include improving the quality of the towpath, relaying and replacing broken flags and poor quality coping stones. This stretch of towpath will also benefit from refurbished and new benches and bins.
Councillor Simon Myers, Craven District Council's Lead Member for Enterprising Craven, said: "The Leeds & Liverpool Canal is a fantastic asset for residents and workers within Skipton. The waterfront provides a traffic-free route for people to walk to work, schools, college and access shops, leisure facilities and services around the town. It's also a great tourist attraction within Skipton.  
"Over the years, the quality of the canal towpath and surrounding features has naturally declined. We have identified a number of improvements in partnership with Canal & River Trust, who look after the canal, that will ensure Skipton has an attractive, safe waterfront for residents and visitors for years to come.
"We have scheduled these works to enable the least possible disruption for users of the canal and the towpath, and we consulted with residents on the proposed works.
"I'm delighted this scheme is about to begin and we look forward to seeing the benefits later this year."
The project is being funded by the York, North Yorkshire and East Riding Local Enterprise Partnership. The works form the first part of the £5m Growth Deal project that also include improvements to Engine Shed Lane, water management along Ings Beck and Gallow Syke and the preparation of a masterplan around Skipton Railway Station.
David Dickson, chair of YNYER LEP's Infrastructure and Joint Assets Board comments: "The LEP is delighted to see works in Skipton commence. We have been working closely with colleagues at Craven District Council to bring forward this significant programme of investment to carry out major works in and around Skipton. By awarding £5m to this project - a sizable proportion of our local growth fund - the LEP continues to demonstrate its commitment to investing to improve opportunities for growing housing and jobs in our vital market towns."
The final design for the scheme has been agreed with the Canal & River Trust, the waterway and wellbeing charity that looks after the Leeds & Liverpool Canal. Work will be carried out by Blackburn based contractors, O'Callaghan Ltd.
Sean McGinley, regional director for Yorkshire & NE at Canal & River Trust said: "As the charity that looks after the nation's waterways, we know what a fantastic resource our canals are and how a visit to your local waterway can help you to relax, unwind and improve your physical health.  By working with Craven District Council to help realise these improvements along Skipton's waterfront we hope to encourage even more people to spend time by water."
Whilst the work is being carried out it will be necessary to temporarily close sections of towpath and moorings. Towpath closures will be notified online by the Canal & River Trust, through signage on the towpath and available on the Council website at www.cravendc.gov.uk/canalwaterfront
Preparations are also continuing for a separate, £2 million project, to transform the towpath on the Leeds & Liverpool Canal between Skipton and Gargrave, and Bradley to Kildwick, which is being managed by the Canal & River Trust.