You are here:
Sutton Juniors Football Club celebrate moving into their new home
Sutton Juniors Football Club celebrate moving into their new home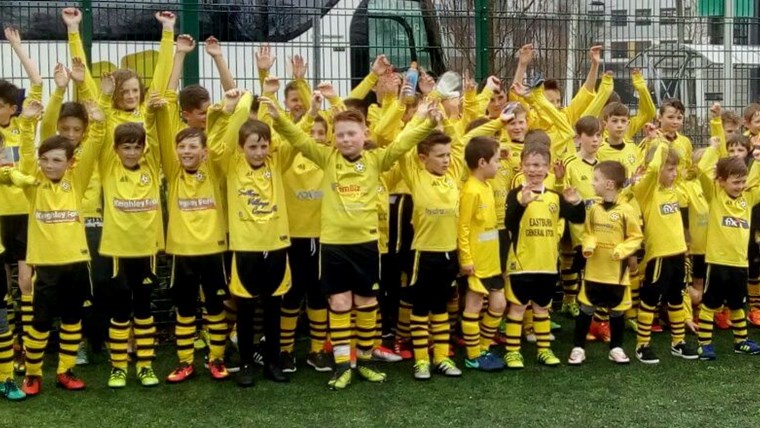 Players and supporters of Sutton Juniors Football Club are celebrating after moving to their new home at Malsis Hall.
The club's members, volunteers and families have been working with Craven District Council and the developer Seddon for many years to find a base. 
Around 300 children currently play for the club, and they have moved between Sutton Park, South Craven School and Glusburn School over the years.
Craven District Council's Sports Development Officer Bruce Dinsmore began working with Sutton Juniors around 10 years ago to find them a new home.
Now the club has signed a 25-year lease for use of the three pitches and changing facilities which have been created at Malsis Hall as part of the planning agreement relating to the conversion of the Hall into a care and rehabilitation facility, and the building of a residential housing development.
Dan Akrigg, Chairman of Sutton Juniors Football Club, said: "It's a fantastic achievement by all involved to bring sustainable grassroots football to the area for many years ahead. The club has a great and bright future with an ever growing member base. The outcome is a shining testament to what can be achieved through collaboration. A huge thank you to the Seddons, CDC, Malsis Hall and especially Bruce, without him, the project would have never got off the ground."
Craven District Council identified the need for a secure home for Sutton Juniors when it published the 'Craven Playing Pitch Strategy' in 2016.
The Council then helped broker discussion between the developer, Seddon, the care provider and Sutton Juniors FC, to create a Community Use Agreement as part of the conditions of planning permission for the Malsis site. The Council then worked with the FA and Sports England to ensure the quality of the pitches and changing facilities met their standards.
Councillor David Ireton, Craven District Council's Lead Member for Resilient Communities, said: "I'm delighted that Sutton Juniors Football Club have now been able to move in to their new home. This project shows how much can be achieved when Councils work with communities and developers to improve facilities for the benefit of local people.
"I know our Sports Development Officer worked very hard to help this come to fruition, along with the club's members and volunteers, and I'd like to thank everyone for their efforts."
Lisa Gardner, Service Director for Malsis Hall, said: "Seddon and ECHO, the care provider at Malsis Hall, are thrilled that the development of the site has provided benefits for all parties and it will help the care service become part of the local community."