You are here:
Children learn about responsible dog ownership from Craven District Council and the Dogs Trust
Children learn about responsible dog ownership from Craven District Council and the Dogs Trust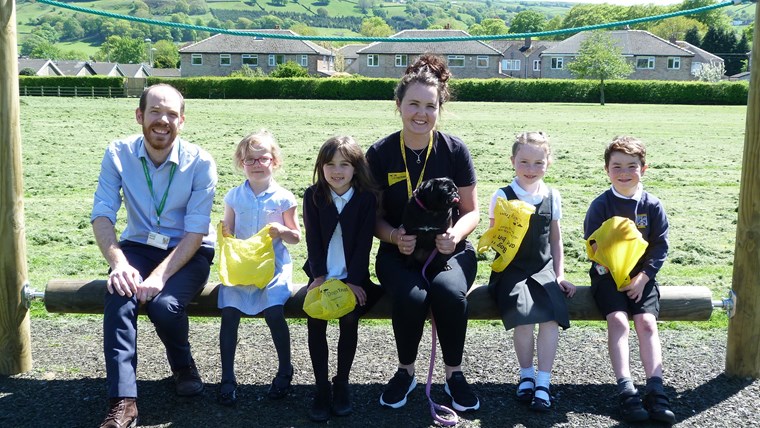 Craven District Council and the Dogs Trust have teamed up to present a series of primary school visits to educate children about responsible dog ownership.
Children get the chance to meet one of the rescue dogs from the charity and ask any questions they may have.
They are also educated on how to stay safe around dogs, the issue of dog fouling and the importance of picking up after your pet.
Children are also being given the chance to enter a competition to create a video, reminding dog owners to clean up after their pets.
The council's Clean Neighbourhoods officers have been visiting primary schools along with Laura-Jane Muscroft, Community and Education Officer with the Dogs Trust.
Wayne Gray, Environmental Health Officer at Craven District Council, said: "We know lots of residents feel strongly about dog fouling and we have been making huge efforts to crack down on this issue in recent years.
"We hope that educating young children about being responsible dog owners will help to reduce this problem in the future.
"We're very grateful to the Dogs Trust for working with us on this issue – children are really enjoying these assemblies and getting to meet Laura-Jane's rescue dog."
Laura-Jane Muscroft said: "It has been fantastic to work alongside Craven Council in schools to spread the information regarding the importance of picking up after our dogs in our local community, whether on the streets or in our beautiful country side.
"As we know children are like sponges! They can soak in as much information as possible which sticks, and then go home and tell their families about the messages they learnt in school, which is what we want.
"All schools throughout our visits also learnt about the correct behaviour they should show if unknown dogs run up to them or knock them to the floor, and also how to stroke a dog using The Dogs Trust's three key safety tips."
The video competition is open to all primary school children in Craven – children can create animations or film themselves. Prizes are on offer for the winner and their school. Videos should be no more than three minutes long and can be sent via wetransfer to jcornish@cravendc.gov.uk
To find out more about the education programmes run by the Dogs Trust, go to www.learnwithdogstrust.org.uk