Creator of Shakespeare's Rose Theatre in York visits Craven Museum to see Shakespeare's 'First Folio'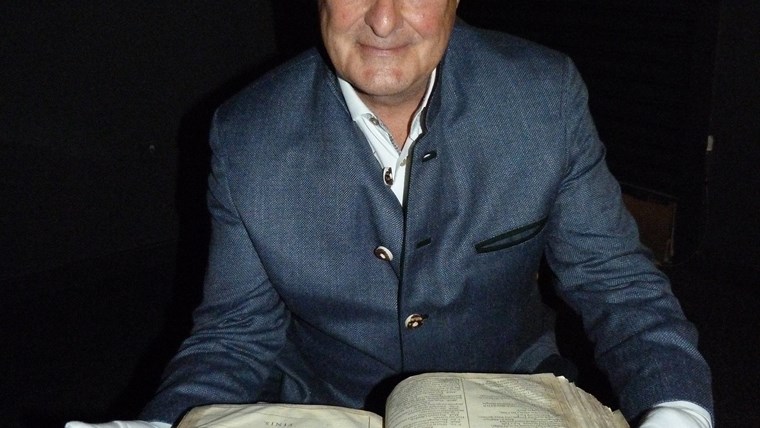 With the start of construction of Shakespeare's Rose Theatre in York just days away, the theatre's producer took inspiration from a historic - and personal - piece of Shakespearean history.
James Cundall, Chief Executive of Lunchbox Theatrical Productions, the company behind Shakespeare's Rose Theatre, visited Craven District Council's Craven Museum in Skipton to view their First Folio – the collection of Shakespeare's 36 plays that was published seven years after the playwright's death by his closest friends - one of whom, Henry Condell, was James' ancestor.
Henry Condell [the spelling was later changed to Cundall] was an actor in The King's Men troupe, a friend of Shakespeare and a partner in the Globe Theatre.
After Shakespeare died, Henry and his friend John Heminge (both of whom were mentioned in Shakespeare's will) published the First Folio of his complete works – their names are printed on the title page - since the author had not "liv'd to have set forth and overseen his owne writings".
Without Condell and Heminge, many of these great works may well have been lost to future generations. As such the First Folio is considered the most important book in English Literature and hugely significant to Shakespearean scholars and fans of the Bard's work.
Only 750 copies were printed – with about 235 surviving worldwide. Around 50 are thought to remain in Britain with the copy at Craven Museum being one of only four on permanent display in the world.
James Cundall said: "To be allowed to handle a First Folio that would have been handled by my ancestor was both humbling and an immense privilege,
"When I looked at the pages of the First Folio, I realised what an incredibly lengthy and complex process it must have been to compile these works and typeset them, from the various randomly published or written sources at that time. At the Craven Museum I was lucky enough to see my favourite speech from my favourite play Macbeth 'Tomorrow, and tomorrow, and tomorrow, creeps in this petty pace from day to day, to the last syllable of recorded time…..'
"I'm sure Henry Condell would be fascinated by Shakespeare's Rose Theatre that we are creating in York this summer, and would totally recognise the performance space as being the same that he and Shakespeare created at The Globe."
Danielle Daglan, Programming & Venue Development Manager at Craven District Council, which runs Craven Museum in Skipton Town Hall, said: ''We're delighted to welcome the Shakespeare's Rose Theatre project to Craven Museum as they prepare for a fantastic summer of performances up the road in York.
"Home to one of only four of Shakespeare's First Folios on permanent public display in the world, Craven Museum is itself embarking on an exciting and ambitious project supported by the Heritage Lottery Fund to completely reimagine the Museum, based in Skipton Town Hall. So now is a great time to encourage more visitors to come and see the First Folio and find out about our plans for the future!''
Preparations are well underway for the ground-breaking 'Summer of Shakespeare' in York. Situated beside the iconic York landmark of Clifford's Tower, Shakespeare's Rose Theatre will combine state-of-the-art scaffolding technology, corrugated iron and timber with the historic 13-sided design of an Elizabethan theatre. It will house an audience of 950, with 600 seated on three tiered balconies around an open-roofed courtyard and standing room for 350 'groundlings'.
Four of William Shakespeare's most popular plays, across the genres, will be performed in repertory by two companies of actors during the 10-week season, from Monday 25 June until Sunday 2 September 2018:
A tragedy – Macbeth
A comedy – A Midsummer Night's Dream
A tragic love story – Romeo and Juliet
A history – Richard III
A trial build of the theatre in an off-site location outside York has been completed with work set to begin on the actual structure at the foot of 13th century Clifford's Tower within York's ancient city walls next week.
For more information on Shakespeare's Rose Theatre click here and for more on Craven Museum click here.