You are here:
Craven District Council raises £8,000 for Cruse Bereavement Care
Craven District Council raises £8,000 for Cruse Bereavement Care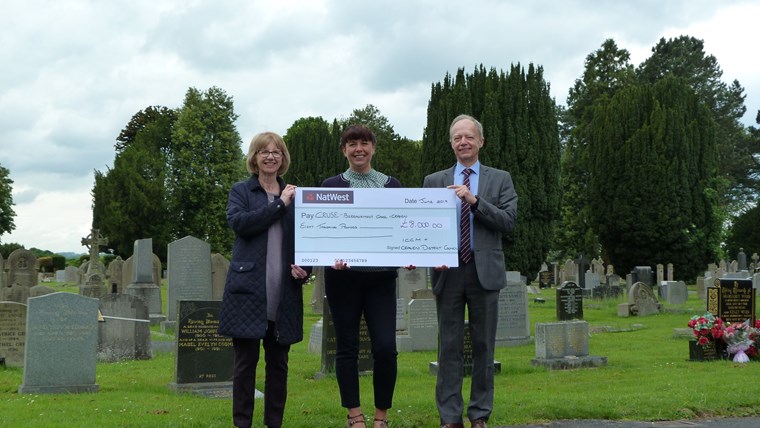 A recycling scheme has helped Craven District Council raise £8,000 for Cruse Bereavement Care, a charity for bereaved adults and children in the local area.
The council's Bereavement Services takes part in a recycled metal scheme run by the Institute of Cemetery and Crematorium Management (ICCM) to help raise money and be environmentally friendly. 
Following a cremation, the remains may contain metals from orthopaedic implants such as hip or knee replacements along with metals from coffins. 
With the direct permission from the families these metals are recycled through a specialised company contracted by the ICCM, with the proceeds shared between a host of charities and organisations, associated with bereavement support. These nominated charities have received £7.6 million since the scheme commenced in 2006.
Clair Cooper, Bereavement Services Manager said "I would like to thank the families and friends of the deceased who allow us to participate in this scheme and I hope they can find some comfort in the gift their passing has given; it will not be forgotten."
Paul Shevlin, chief executive of Craven District Council, said: "Over the last two years we have raised a total of £40,000 for Cruse Bereavement Care, which provides help and support for many people in Craven and surrounding areas. A huge thank you to those families who have given permission for us to take part in this scheme."
Irene Hardy, Area Coordinator at Cruse Bereavement Care Craven and Bradford Area said, "Cruse would like to thank the ICCM and Craven District Council for the donations. The funds enable us to recruit and train more volunteers to support bereaved people at a time when we are seeing an increasing number of referrals."
The scheme has recently been expanded to include the recycling of pacemakers, which must be removed before a cremation can take place. They are either donated to a pacemaker charity for use in developing countries, or recycled, with proceeds going to the ICCM Metal Recycling scheme.
Cruse recruits and trains volunteers to support bereaved adults and children. The support sessions are one-to-one and take place at the Skipton office and at other venues throughout the area; there is also an option for telephone support for adults. 
The organisation has approximately 40 volunteers and 31 of those do client work.  Volunteers take part in foundation training before they have client contact and they receive ongoing training and supervision.
Cruse's next Bereavement Volunteer training course begins in September. Anyone who is interested in the role can request an information pack by emailing craven@cruse.org.uk or calling 01756 796004.
Individuals can refer themselves for support via the Cruse helpline, which is available on 01756 797799​.