Armed Forces Day marked in Skipton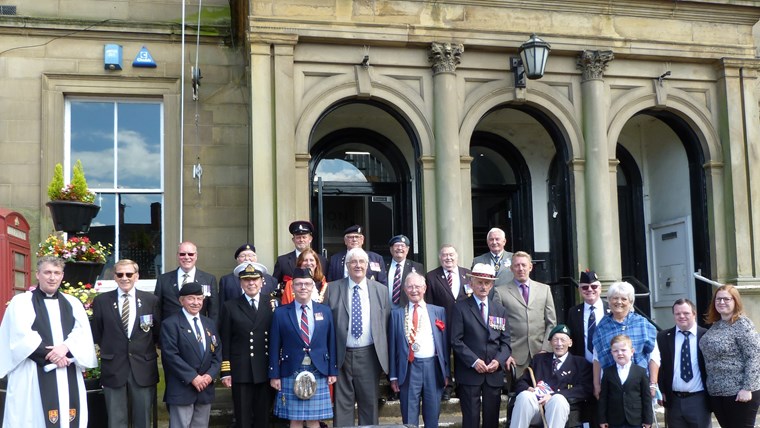 The Armed Forces Flag was lowered at Skipton Town Hall on Saturday June 26, and presented to Skipton Royal British Legion veteran Martin Winterton.
The flag was lowered in a small ceremony, organised by Craven District Council and the Royal British Legion.
Craven District Council Chairman, Councillor Alan Sutcliffe, introduced the event and welcomed Her Majesty's Deputy Lord-Lieutenant of North Yorkshire, Captain Stephen Upright, along with RBL veterans.
He said: "I would like to welcome you all to Armed Forces Day which we are honouring in Skipton today.
"Armed Forces Day is the chance for us all to show our support to the men and women who make up our Armed Forces Community: from currently serving troops to Service families, veteran and cadets.
"The Armed Forces defend the UK and its interests around the world and are also always prepared to provide assistance here in the UK with large scale emergencies such as flooding or COVID -19.
"There are currently around 5,000 Armed Forces personnel on standby across the UK who can be called upon to help out with COVID-19 tasks and this includes the Yorkshire 5 Regiment who are unable to be with us here today because of these commitments.
"Last year the Yorkshire 5 Regiment were granted the Freedom of the District and we will hold a Freedom Parade for them once it is safe to do so.
"I hope that next year we will be able to come together to celebrate both Armed Forces Day and the 5th Regiment Royal Artillery Freedom Parade."
Royal British Legion bugler Paul Cole played the Last Post while the Flag was lowered.
The Flag was presented by Barry Blood, President, Skipton Branch of the Royal British Legion to Mr Winterton, who has put in many hours of fundraising for the Legion over the years.
He joined the Bristol Royal Marine Forces Volunteer Reserve in September 1957 and was awarded the Green Beret at the end of his final training in 1969. He joined the Falkland Islands Dependencies Survey, which became the British Antarctic Survey, as a Dog Sledger and served for two Antarctic seasons in 1962 and 1963.
In 1962 during a nine-week, 1,000-mile sledge journey, Mr Winterton became the first person to reach the Vestfjela mountains in the Norwegian Antarctic Territory, nearly 300 miles east from Halley Bay.
On his return to UK he rejoined the RMFVR and spent 40 years in television and film industry, including 25 years with the BBC as film editor working on shows such as Blue Peter and BBC Look North.
Mr Winterton joined the Sea Cadet Corps as RM Sergeant Instructor in 1982, and served for 15 years rising to Lieutenant RMR and Area Staff Officer (Adventure Training) East.
He was presented with the Sea Cadet Force Medal when he retired in 1997 after 15 years of service. On moving back to Yorkshire, he joined the Skipton Royal British Legion in 2005 and worked for many years on the Poppy Appeal.
After the presentation of the Flag, the Reverend Canon Dr James Theodosius, Rector of Holy Trinity Church, said prayers to close the ceremony.
Armed Forces Day takes place on the last Saturday each June and is a chance for people to show their support for the men and women who make up the Armed Forces community, from currently serving troops to Service families, veterans and cadets.