Join the Great Craven Spring Clean!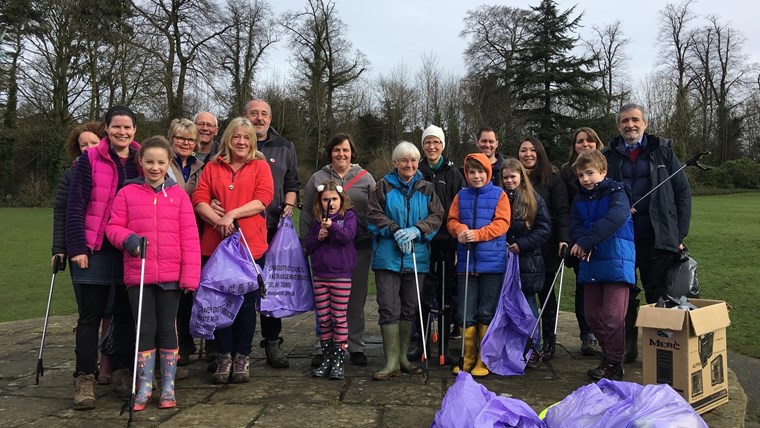 Residents are being invited to join Plastic Free Skipton, Craven District Council, Friends of Aireville Park and other community groups in cleaning up Skipton on Saturday, April 6.
Volunteers will be picking up litter around Aireville Park, Gawflatts Meadow, Middletown, Sandylands and other areas of the town as part of the Keep Britain Tidy Great British Spring Clean.
Craven District Council staff are volunteering on the day and the Council is offering to provide rubbish bags, a limited number of litter-picking grabbers, and collection of any litter, to groups around the district.
Katie Birks, of Plastic Free Skipton, said: "We'd love as many people as possible to get involved with the Spring Clean. We hope this event will tidy up our beautiful town and discourage people from littering in the future.
"The unfortunate truth is that plastic litter doesn't go away. It's here for ever, hurting our wildlife, choking our rivers and filling our oceans. But we can all make a difference by limiting the plastic we use and disposing of it properly."
Paul Ellis, Director of Services at Craven District Council, said: "We're delighted to be supporting this event and are also offering help to any other groups who want to hold litter-picks around the district.
"Keeping Craven clean is a top priority for the council and we know residents want to help. The council will also be carrying out litter-picking on the verges on the main roads around the district from April 1.
"We're all very proud of the district and it's great to see so many people getting involved within our communities."
Fiona Protheroe, chairperson of Friends of Aireville Park, said: "We have such an amazing park here in Skipton, with all the improvements that have been made over the last few years – the pump track, skate park and now the new children's playground which is almost completed. Unfortunately, some people who visit the park do drop litter and we're hoping this event will make them think twice."
The litter collected in Skipton will be separated into recyclables and non-recyclables, and Craven District Council will hold a display on Skipton Market the following week, to raise awareness of the issue of littering.
The litter will also be part of the Surfers Against Sewage nationwide plastic audit, naming and shaming the top 10 brands of plastic litter.
There are a number of other events already planned around the district – to find your local event or to set one up, go to www.keepbritaintidy.org
Residents can organise their own litter-picks, or join existing groups. Friends of Aireville Park are meeting at the park bandstand at 10am, and Middletown Community Association are meeting outside Parish School on Brougham Street at the same time. A team is also meeting outside the Craven District Council offices at 10am to litter-pick along Broughton Road. 
For more information please email plasticfreeskipton@gmail.com and for assistance from Craven District Council with rubbish bags and collection, email wastemanagement@cravendc.gov.uk
Residents taking part are also asked to email their photos to plasticfreeskipton@gmail.com or comms@cravendc.gov.uk if they are happy for the images to be publicised on Facebook and in the local press.