Le Petit Depart 2020 is taken over by Skipton Cycling Club & Sue Ryder Manorlands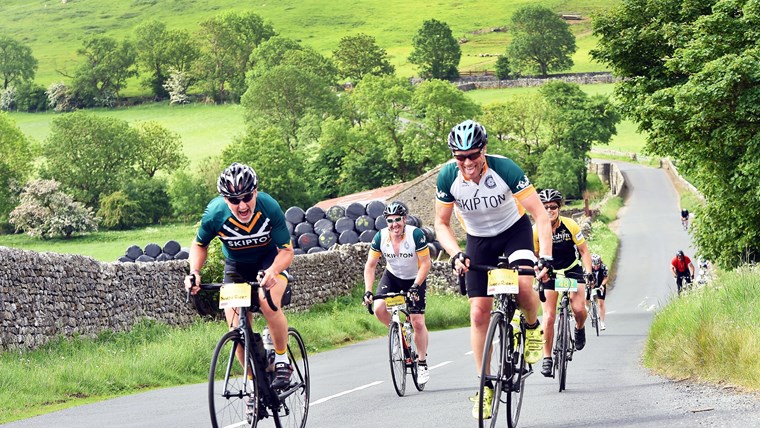 Skipton Cycling Club and Sue Ryder Manorlands have taken over running the popular cycle sportive Le Petit Depart for the 2020 event.
Now in its seventh year, the cycling sportive will take place on Sunday May 31 and normally attracts around 700 entrants.
In previous years, Craven District Council has organised the event with Skipton Cycling Club, but due to long-term staff sickness, the council has handed over the reins for this year's event.
Sharon Hudson, Communications, Customer Services and Partnerships Manager at Craven District Council, said: "This has been a hugely popular and successful event but sadly due to staff sickness we do not have the capacity to organise it this year.
"We're very grateful to Skipton Cycling Club and Sue Ryder Manorlands for taking on Le Petit Depart in 2020 and we're sure it will be a brilliant event once again this year."
Caran Stephenson, Chair of Skipton Cycling Club, said: "It is great to see groups of friends and visiting club members entering the event together, supporting each other round the route and having a fantastic time. Last year's event saw more women entering the sportive and this was really encouraging. Le Petit Depart is a great start on your sportive journey, whether it is your first or your 21st, so come and join us for a brilliant day. We are monitoring the Covid-19 situation and are currently keeping postponement of the event under review, subject to Government guidance."
The Sportive celebrates the very best cycling the Yorkshire Dales has to offer, following in the wheels of the spectacular 2014 Tour de France: Grand Depart and the 2019 UCI World Championship Road Races. Le Petit Depart follows the same route north of Skipton as these races, with four fantastic routes to cater for all abilities.
Molly Ralphson, Sue Ryder's Fundraiser for Craven, is delighted that the hospice will be involved this year and will share any proceeds with the cycling club.  She said, "When we got the call to help we jumped at the chance to share our experience and add this to the many events that people can take part in to support us and the care we provide to people in Craven when they need us most."
Last year, Craven District Council, Skipton Cycling Club and Sue Ryder Manorlands Hospice formed a partnership for the event, encouraging participants to raise money for the charity with sponsorship forms, online fundraising and donations on entry.
Entrants can choose from the 100-mile route, introduced last year, and the original classic 80-mile Sportive Ride, or Scenic Rides of 38 or 49 miles, following the Grand Depart route up and back down the magnificent Upper Wharfedale valley.
The event also attracts families and friends to enter as teams and take part in the Team Challenge and the potential to win the Team Challenge trophy. Team members can choose which route to ride and don't have to ride the same route as each other. The trophy is awarded to the team with the best average speed and each year around 15 teams take part.
Every entrant will be included in the prize draw for a chance to win a brand new Trek Domane AL2 bike from Chevin Cycles worth £550.
To enter online go to: https://www.britishcycling.org.uk/events/details/220004/Le-Petit-Depart-2020
The event webpage is here: http://skipton.cc/le-petit-depart-sportive-event/
Entrants can make a donation to Sue Ryder Manorlands as part of their entry and also use the fundraising pack, sponsorship forms and JustGiving website.
For more information about Manorlands go to www.sueryder.org/manorlands