Spectacular land art planned in Skipton's Aireville Park to welcome the Tour de Yorkshire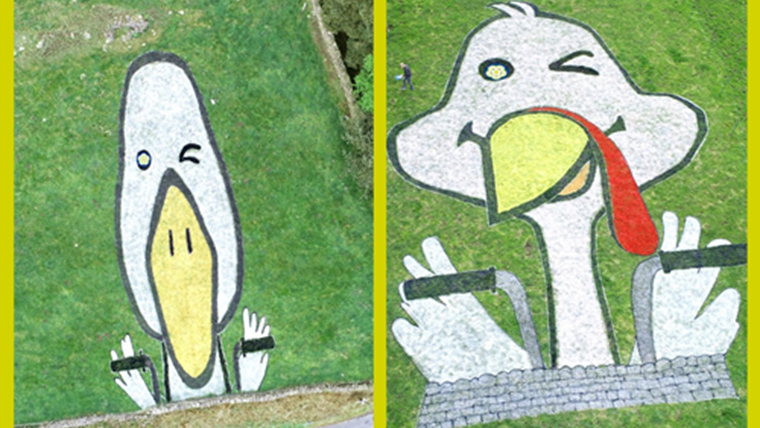 Craven District Council is working with an award-winning artist and young creatives to produce a spectacular piece of land art in Aireville Park in celebration of the Tour de Yorkshire race start in Skipton on May 1.
Fields of Vision, a Yorkshire-based land art company, will work with a young artist to be chosen by a panel of representatives from the council and Francis Knight, the public art consultancy.
The giant land art in Aireville Park will be picked up by TV cameras covering the event as Stage One of the women's race and Stage Two of the men's race set off from Skipton on May 1.
The project is being run in partnership with Great Place: Lakes and Dales, the programme which aims to use art, culture and heritage to attract and retain young people to live and work in the area.
Fields of Vision won Welcome to Yorkshire's land art competition at last year's event, with a winking goose and turkey riding 70s Chopper bikes, which was painted onto a field near the Côte de Goose Eye climb.
Andrew Wood, of Fields of Vision, said: "Winning the Land Art competition was brilliant and it was amazing to know so many people had voted for us. The moment the TV helicopter zoomed in on our design during the race was an experience we'll never forget. To know 28 million people around the world were seeing what we'd created was a fantastic feeling and it made all our efforts worthwhile."
Welcome to Yorkshire Chief Executive James Mason said: "This is the first time I've worked on a Tour de Yorkshire, but I've watched it with interest ever since it started and have always been blown away by the lengths people go to, to support the race. Every year whole towns and villages are draped in yellow and blue flags, and those giant land art pieces are always spectacular.
"We organise these competitions to honour those people around the county who go to such great lengths to get behind the race. Last year we had hundreds of entries and thousands of people cast their votes, and I can't wait to see the submissions for this year's competitions."
Councillor Richard Foster, leader of Craven District Council, said: "This is a fantastic chance to showcase Skipton and Craven to the world, with millions of TV viewers watching. I can't wait to see what these talented artists come up with!"
GPLD programme manager Lindsey Hebden said: "This is yet another example of how the Lakes and Dales is a great base for young people involved in the creative industries and a great opportunity to showcase the area to a global audience."
Full details of how to enter the Tour de Yorkshire Land Art and Best Dressed competitions can be found at letouryorkshire.com/competitions. Entries will be taken until midnight on Sunday 26 April, although it is strongly advised to get any submissions in as soon as possible.
The Three Peaks Stage will cover 124.5km from Skipton to Leyburn. The world's top female riders will start in the morning with the men following in the afternoon.
The route takes in huge swathes of the Yorkshire Dales National Park with sprint sections in Settle and Horton in Ribblesdale, then past the Yorkshire Three Peaks and Ribblehead Viaduct.
For more information about the Tour de Yorkshire 2020 in Craven, go to www.cravendc.gov.uk/tdy2020