You are here:
New Craven District Council chairman takes the hotseat
New Craven District Council chairman takes the hotseat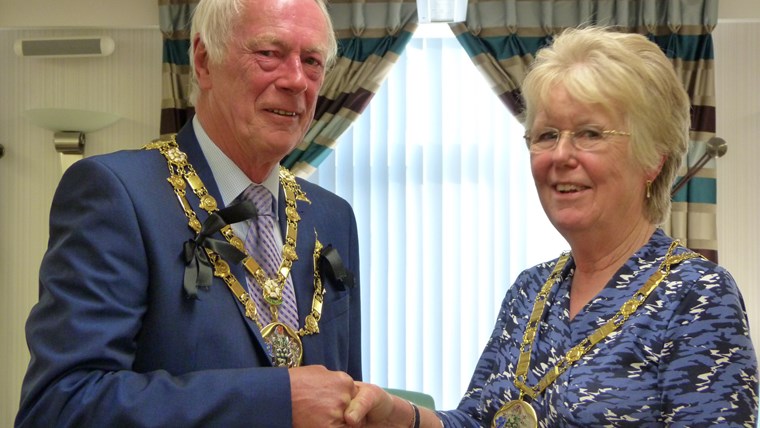 Councillor Stephen Place has been elected as the new chairman of Craven District Council, taking over from Councillor Chris Moorby.
Cllr Place, who previously served as chairman in 2003/04, was unanimously voted in as chairman at the Annual Council Meeting on Tuesday May 23, with Councillor Wendy Hull unanimously elected as vice-chairman.
The meeting was overshadowed by the terrorist attack in Manchester the previous evening; a minute's silence was held to remember the victims.
The outgoing chairman, Cllr Moorby, read out a letter he had written to Andy Burnham, the Greater Manchester Mayor, and said: "We will not give into these people that commit these terrible atrocities. These people are hell bent on destroying our lives, not just in England, but all over the world. What the members of the human race can do to each other at times beggars belief."
Cllr Place, who represents the Sutton in Craven ward as an Independent councillor aligned to the Conservative Group, said: "Today should have been a very happy and joyous occasion but it has been spoilt by the happenings in Manchester. What really brought it home to me was to hear that an eight-year-old girl was one of the victims. I look at my grandchildren and think, it could have been them."
However, he said: "Life has to go on, otherwise the bombers gain a victory."
Accepting the chairman's chains, Cllr Place said: "I'd like to thank all members for their support and trust. I'm really looking forward to this year. I hope to raise awareness of a big issue threatening Craven and the world in general – climate change."
Handing over the chains, Cllr Moorby said: "The last 12 months have been very interesting for both my wife Janet and myself. We've been to many occasions, including to a Buckingham Palace garden party, when the Queen was in residence, I met Prince Charles when he visited the district, and we attended the Ripon Cathedral service in honour of the Queen's 90th birthday.
"My thanks to my fellow members and officers and employees at Craven District Council for helping me through the last 12 months. You've all done marvellously.
"It has been an honour to be the first citizen of Craven for the last year; it's a year my wife and I will cherish and remember for the rest of our lives."
It was also announced at the meeting that Councillor John Dawson will become Deputy Leader of the Council, taking over from Councillor Patrick Mulligan, who remains Lead Member for Financial Resilience but has stepped down from the Deputy Leader role following his appointment to the North Yorkshire County Council cabinet as Executive Member for Education and Skills.
Councillor Wendy Hull will become the council's Older People's Champion following the resignation of Councillor Pat Fairbank.