Zip wire opens at Aireville Park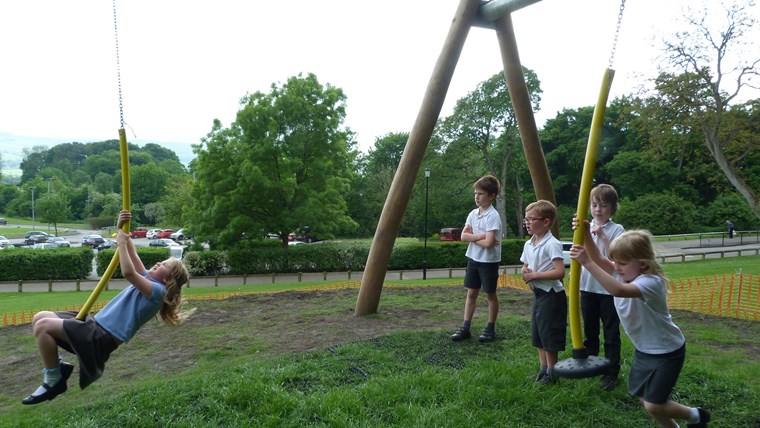 A new zip wire has opened at Aireville Park in Skipton – the first step on the path towards a new children's play area.
Craven District Council is working with the Friends of Aireville Park group to develop the £200,000 play area.
The group was successful in raising £12,000 through Tesco Bags of Help, which has paid for the installation of the zip wire.
The new equipment has already proved popular in the hot weather with children queuing up to race each other down the double cableway.
Fiona Protheroe, chair of Friends of Aireville Park, said: "We're delighted to see the zip wire up and running. This is just the start of a huge project and we've got a lot of fundraising to do to reach our target.
"We're working hard to raise money but we need support from the community too. If there are any individuals, community groups or schools who would like to raise money for us, or businesses who can sponsor us, it would be great to hear from them."
Bruce Dinsmore, Craven District Council's sports development officer, said: "It's brilliant to see the zip wire installed and so many children using it already. We're looking forward to working with Friends of Aireville Park on the next steps of this exciting plan."
The new play area will eventually cover 4,500 square metres, including a climbing net, ropes and beams, sand and water play and natural play spaces. There will be a combination of traditional equipment such as climbing towers, swings, seesaws and roundabouts, alongside wild garden and nature areas.
Friends of Aireville Park have a target to raise £100,000, with the remainder of the funding for the park coming from Craven District Council, from planning gain monies.
Anyone wishing to help Friends of Aireville Park with fundraising for the play area can contact the group by emailing: friendsofairevillepark@gmail.com
To help support the plan by donating, go to https://localgiving.org/friendsofairevillepark