You are here:
Skipton Triathlon athletes raise £4,500 for Sue Ryder Manorlands Hospice
Skipton Triathlon athletes raise £4,500 for Sue Ryder Manorlands Hospice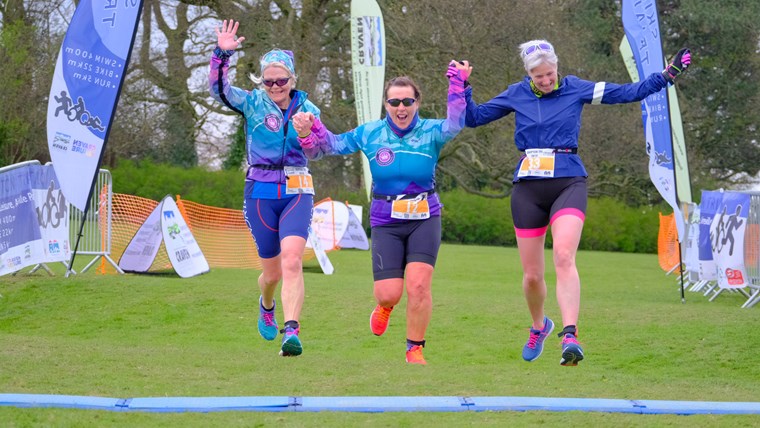 Competitors taking part in this year's Skipton Triathlon have raised an amazing £4,500 for the local charity Sue Ryder Manorlands Hospice.
This was the first year that Craven District Council formed a partnership with the charity, which provides expert palliative care, advice and support for local people who are living with life-limiting conditions, and support for their families.
Athletes were encouraged to raise money for Sue Ryder Manorlands when they signed up for the event, through donation or sponsorship.
Molly Ralphson, Community Fundraiser at Sue Ryder Manorlands Hospice, said: "We were delighted to be the charity partner for the Skipton Triathlon. We are so grateful for the donations from competitors and to those entrants who raised sponsorship for completing the challenge.
"The amount raised is amazing and will really help our patients and their families receive the specialist care and support they need at a time when it matters the most. We want to send our thanks to everyone involved for a fantastic event in Skipton."
More than 550 athletes braved the cold weather to complete Skipton Triathlon in Aireville Park on Sunday, April 14.
They were cheered on by crowds as they took part in in a 400m swim in the Craven Leisure pool, followed by a 22km bike ride out through East and West Marton and Thornton-in-Craven, and then a 5km run around Aireville Park.
The event was organised by Craven District Council for the third consecutive year, and received a highly positive race report from British Triathlon.
Paul Shevlin, the council's chief executive, said: "I'm thrilled that people taking part in the triathlon were able to raise so much money for such a worthy cause.
"Skipton Triathlon is always a fantastic event, attracting a huge range of competitors, from beginners to elite athletes. Raising these funds for Sue Ryder Manorlands Hospice is the icing on the cake.
"A huge thanks again to all our sponsors and supporters and all the volunteers for helping us put on the triathlon, particularly volunteers from Craven District Council, Craven Energy Triathlon Club, Skipton AC, Friends of Aireville Park and Skipton Cycling Club."
Craven District Council is also partnering with Sue Ryder Manorlands Hospice for Le Petit Depart, a cycling sportive which takes place on Sunday June 2, with four routes available this year – 38 miles, 49 miles, 80 miles or 100 miles.
The partnership was formed following an open bidding and selection process.
For more information and to enter Le Petit Depart, go to http://skipton.cc/le-petit-depart-sportive-event/ and for more information about Manorlands go to www.sueryder.org/manorlands