Skipton High Street awarded £95,360 for cultural programme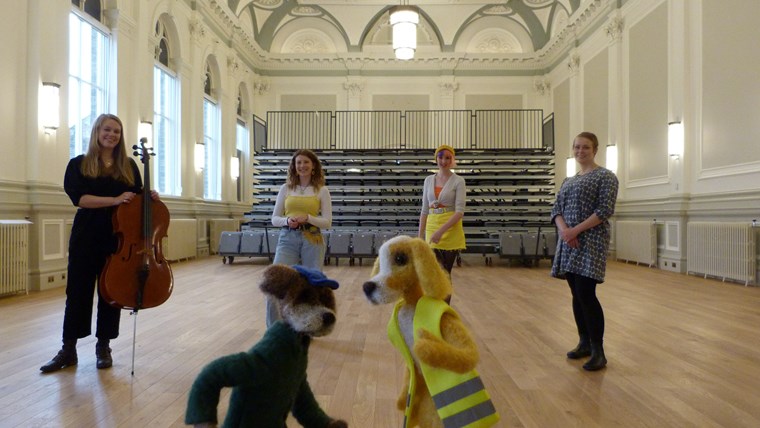 Craven District Council has been awarded a £95,360 grant from Historic England as part of the Skipton High Streets Heritage Action Zone (HSHAZ) to create and deliver community-led cultural activities on the high street over the next three years.
Skipton HSHAZ is one of more than 60 high streets to receive a share of £6 million for their cultural programme. Grants of up to £120,000 have been awarded to local arts organisations for cultural activity on each high street.
The Skipton Cultural Programme will aim to attract and engage young people, young adults and families – bringing the town's heritage to life. Young people themselves will be involved in devising projects and putting on events in the town.
There will be six key projects:
Skipton Trails App – working with young people to develop a series of digital trails around Skipton, including yards and ginnels, local historical characters, ghost tour, arts trail and an ale trail. A collection of art installations and resources will be created by local artists to support the trails. This project will be led by Skipton Library.
Watch this Space – developing a network of spaces in Skipton for creative activities including evening events, clubs and performances. This project will be led by Great Place: Lakes & Dales.
Sounds of Skipton - Mass participation co-created audio sound map encouraging the people of Skipton (and visitors) to think about their local environment more closely, how it sounds, what they love about it, and what makes it unique. Audio postcards will create a unique and growing archive of the town. This project will be led by Wild Rumpus.
Dogs Dales Augmented Reality App – The award-winning Kettu Studios will develop a location-based augmented reality mobile-device 'treasure hunt' game, based around the Dogs Dales characters. This project will be led by Kettu Studios.
Craven Music Match – A programme to support up and coming musicians with professional mentoring, workshops, collaboration and performance opportunities. This project will be led by Sarah Smout, a local musician and Cultural Consortium Youth Ambassador.
Community in Colour - A series of murals and art installations to highlight the historic buildings, spaces and culture within Skipton. This project will be led by Fresh Perspective.
The Skipton programme is part of the three-year-long High Streets Heritage Action Zones' Cultural Programme, led by Historic England, in partnership with Arts Council England and the National Lottery Heritage Fund. The Cultural Programme aims to make our high streets more attractive, engaging and vibrant places for people to live, work and spend time.
Duncan Wilson, Chief Executive, Historic England, said: "The high street cultural programme is a step change in the way we think about bringing high streets back from the brink. As we start to see these important historic spaces become regenerated through building work, it is the community-led cultural work that helps people to enjoy their high street again and also have a say in what the future of their high street might be."
Councillor Simon Myers, Craven District Council's Lead Member for Enterprising Craven, said: "We're delighted to have received this funding. We have a number of very exciting projects to improve Skipton town centre for residents, businesses and visitors, including the redevelopment of Skipton Town Hall and the creation of a new Arts Centre. This cultural programme will help to attract more young people and families to Skipton and Craven so they can see what a great place it is to live, work and visit.
"It's brilliant that we are involving so many young people in planning and delivering these projects and events – I look forward to seeing the results of this innovative programme."
Culture Minister Caroline Dinenage MP said: "High streets are often the heart of our communities and should be places we all want to engage with and enjoy. These grants will help transform high streets into thriving cultural hubs, encouraging us to embrace all the joys our town centres have to offer."
The funding builds on the success of a series of pilot cultural projects that have run since last August across 43 High Street Heritage Action Zones. In Skipton, £7,800 was awarded to deliver a pilot activity programme. This included the launch of the Skipton HSHAZ project, with flags and bunting installed around the town; Joy in Numbers, a series of online creative workshops; and community consultations, to find out what kind of cultural activities are most wanted by local people.