Sign up for Skipton Triathlon 2018!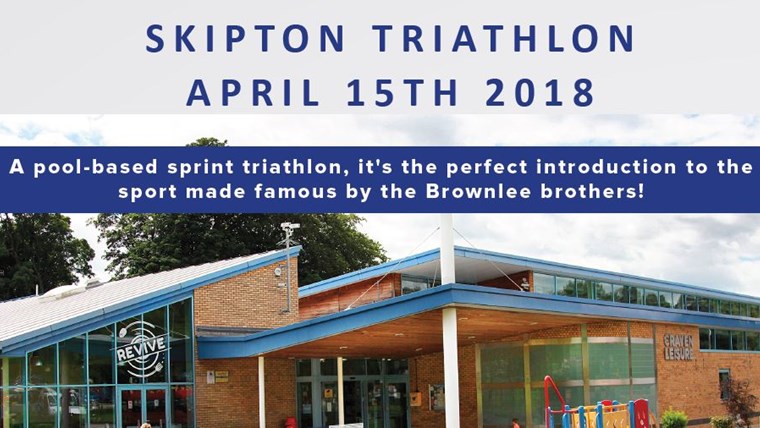 Entries for Skipton Triathlon 2018 open on November 1 and after a spectacular event this year, places are sure to be snapped up.
Craven District Council organised the event for the first time in April 2017 and 860 people entered, with athletes turning out in glorious sunshine to complete the sprint triathlon.
It's a popular event for first-timers and elite athletes alike, with almost half the competitors this year taking part in their first ever triathlon.
The race involves a 400m swim in the Craven Leisure pool, followed by a 22km bike ride out through East and West Marton and Thornton-in-Craven, and then a 5km run around Aireville Park.
Councillor Linda Brockbank, Craven District Council's lead member for Working with Communities, said: "I'm delighted that we're running this fantastic event again next year and would encourage people to sign up.
"We had some great feedback from competitors this year - all our sponsors and supporters helped make it a memorable experience for those involved. We're really looking forward to welcoming athletes back again in 2018."
Tracy Smith took part in her first triathlon event in 2017 along with her brother and said: "We thoroughly enjoyed our first triathlon. My brother and I will be back!"
The event in 2017 was sponsored by Myers Building Supplies, The Pentelow Practice Ltd, and Pulse, and supported by Keelham Farm Shop, Sundried, Sportsshoes.com, Harrogate Spa and Birchall.
A spokesman for Myers Building Supplies said: "We were delighted to be one of the main sponsors of the 2016 Skipton Triathlon. 
"Twelve Myers Team Members took part in the annual event organised by Craven District Council and bearing in mind that none of them had ever taken part in a triathlon, they performed remarkably well, each finishing the race in good time, with three colleagues actually taking third place overall in the Team race! 
"The event was very well organised and excellent for team building.  Myers team members brought their family and friends and even their dogs along with them and together all had a thoroughly enjoyable day.  Myers Building Supplies would definitely recommend this event to anyone thinking of lending support or taking part as a competitor."
Anyone interested in sponsoring the event in 2018 can email comms@cravendc.gov.uk to find out more.
For more information about Skipton Triathlon, or to register an interest in taking part, please go to www.cravendc.gov.uk/skiptontriathlon2018
From November 1, you can sign up for the triathlon at www.britishtriathlon.org/events.
An 'early bird' offer is in place from November 1, with prices at £38 for British Triathlon Federation (BTF) members, £41 for non-BTF members, and team entries at £63 (BTF) and £73 (non-BTF). After the early bird offer ends, the standard prices will be £43 (BTF) £46 (non-BTF) and team entries £73 (BTF) £83 (non BTF).