J&B Recycling help explain recycling contamination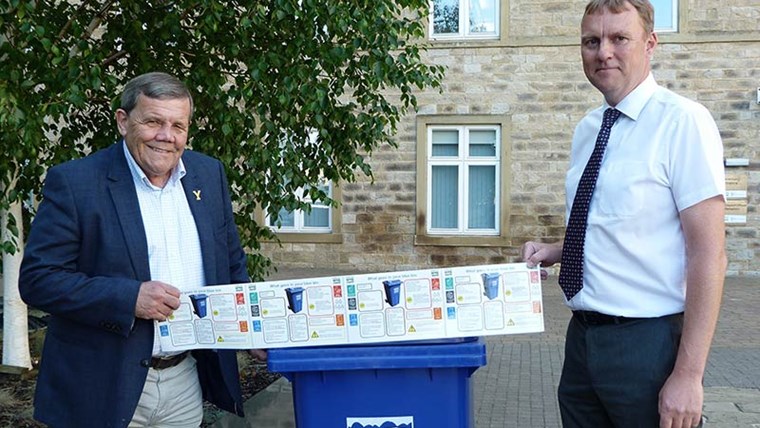 Recycling experts have explained why putting the right kind of materials in bins is so important after residents were warned 'contaminated' bins won't be emptied.
Craven District Council has asked residents to ensure the correct items are put in the blue recycling bins after finding items including clothing, nappies and even bits of old vacuum cleaners.
Paul Ellis, Director of Services at Craven District Council, said: "We know the vast majority of residents in Craven want to recycle and they want to recycle properly.
"The vast majority of our residents do recycle correctly but there can sometimes be confusion over what can and can't be recycled, and why. We have issued all residents with a new sticker, which explains what can and can't go in their blue bin. This information is also available on our website.
"It's also important for residents to understand the reasons behind these rules – we're not just being awkward! If the recycling waste is contaminated, it often can't be recycled at all. That's why we need residents to make a big effort to get it right."
J&B Recycling – whose plant sorts the recyclable waste from councils across the UK including Craven District Council – has now explained why not contaminating the bins is so important.
What is contaminated waste?
Contamination can be anything from food and liquids left at the bottom of bottles to polystyrene left inside cardboard boxes.
Mark Penny, Commercial Manager at J&B Recycling, said: "Contamination can spread to good materials that can be recycled making them useless.
"An example of this would be if a milk bottle is placed into the bin with half its contents left in it.
"The plastic bottle is recyclable but during compaction in the collection vehicle the milk could be squeezed out and soaked up by surrounding paper or card – turning it to mush and rendering previously good, recyclable materials into waste."
Mark said: "To reduce contamination, we advise residents to wash out any food remains and pour away excess liquid especially in plastic bottles and glass jars. If possible, rinse the container but don't put it in the dishwasher – it doesn't need to be spotless!
"One thing we are always asked about pizza boxes and whether they are recyclable or not.
"As a general rule, we say to take out any food remains and the grease paper at the bottom and it should be fine if the box isn't covered in grease."
Batteries or items containing batteries, especially the type you get in mobile phones and remote-control toys, shouldn't be put in either the recycling or general waste bin as they can react when damaged or wet and can cause fires in the collection vehicles or at the sorting plant.
Black plastic cannot currently be recycled at all. "Machines used to sort plastics into different types of plastic do not work on black plastic," said Mark.
"Bagged waste also cannot be accepted as there is significant risk of bags containing contamination or waste.
"Textiles also cannot be recycled in your blue recycling bin as if mixed in with other waste they become very dirty, can be damaged and are not acceptable for reuse."
Mark reminds householders that despite the sophisticated technology used in the sorting the recycling materials, at some stage humans are still involved in the process.
He said: "It's not to be forgotten that there is a safety aspect to this as well. If there are nappies, needles and dog waste in the recycling bins, it's unpleasant and often unsafe for people to encounter those things.
"Tissues, baby wipes, face wipes and sanitary waste from bathrooms should also go into the general waste. But shampoo bottles and the like are fine to put in the recycling."
Larger appliances
Both small appliances and bulkier electronic items should be taken to local household waste recycling centres. Or when purchasing a new electrical item, Mark advises checking to see if companies offer a like-for-like in taking away old items.
Mark said: "People who are getting rid of any additional garden waste, furniture or garden chemicals can take these items to their local household waste recycling centre along with any electrical items including mobile phones, batteries and white goods.
"Every council is different and has different rules and regulations about what is recyclable and what they collect from households.
"If you're ever unsure your first port of call should be the council website."
To find out what can and cannot be put in the Craven District Council blue bins go to www.cravendc.gov.uk/recycling.
J&B Recycling has a number of sorting facilities across the North East and processes hundreds of thousands of tonnes of waste from across the UK.
The company that services businesses, councils and residents across the North East, specialises in its high quality service and in ensuring minimum waste goes to landfill.