You are here:
Larry & George Lamb: Back On The Road at Skipton Town Hall
Larry & George Lamb: Back On The Road at Skipton Town Hall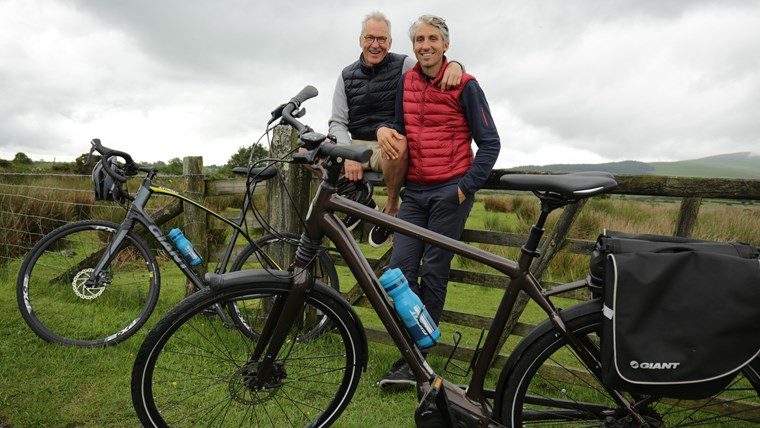 A chat show with a difference, from the stars of Channel 5's Britain by Bike, is coming to Skipton Town Hall.
Audiences are invited to join Larry and George Lamb for an evening not to be missed, on Saturday November 17 at 7.30pm.
George is the host and he'll be encouraging his old man to talk about his life on TV: Gavin & Stacey, EastEnders and some of the highs and lows of a brilliant 40-year career.
But the spotlight will turn on George too – his life in showbiz and being the son of someone who millions of people (think they) know.
Danielle Daglan, Programming & Venue Development Manager at Craven District Council, said: "Britain by Bike has been an incredibly popular series with an audience of over 4 million people watching Larry and George on their father and son bicycle trip throughout Britain, from the Isles of Scilly to the Outer Hebrides.
"This is a fantastic chance to gain an insight into the life of Larry Lamb, one of Britain's most popular and accomplished stage and screen actors."
Larry has starred in numerous TV series, playing iconic roles as Mick Shipman in BBC's Gavin & Stacey and Archie Mitchell in EastEnders. Larry regularly works with BBC1's The One Show and previously hosted his own LBC 97.3 Sunday Morning radio show, talking to the station's 1.3 million listeners about the big, real-life issues of the week. 
Through George's work on Channel 4 and E4 Music, he's been fortunate enough to interview some of the biggest names in music and film. George presented three successful series of E4's Big Brother's Little Brother, finally saying goodbye to a fantastic final series in 2010.
He has embarked on a number of exciting projects since, from hosting BBC3's BAFTA Red Carpet coverage, to being the first on set after the live anniversary episode of EastEnders Live: The Aftermath for BBC3.
See Larry and George at Skipton Town Hall on Saturday 17 November, 7.30pm. Tickets cost £17 for adults and £15 for concessions: Over 60 / Students / Under 18s.
All tickets are available to buy online at www.cravendc.gov.uk/skipton-town-hall or from the Box Office 01756 792809.