Northern Powerhouse and Local Growth Minister Jake Berry MP visits Skipton Flood Alleviation Scheme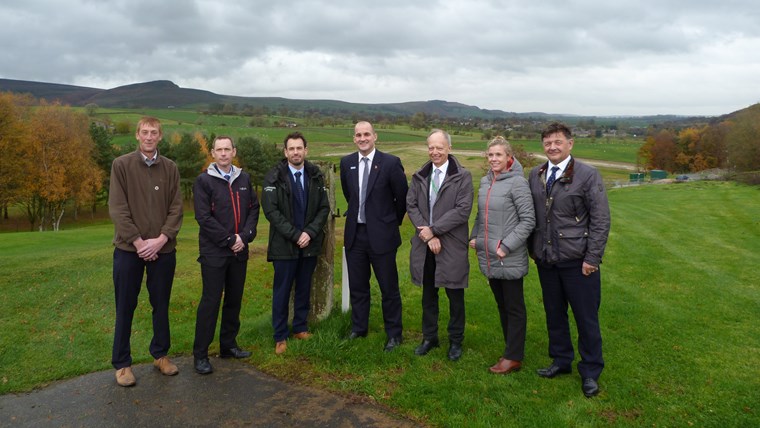 Northern Powerhouse and Local Growth Minister Jake Berry MP visited the recently opened £17.8 million Skipton Flood Alleviation Scheme on Thursday November 8.
The MP met councillors and officers at Craven District Council, and was taken on a tour of the works to improve flood defences in parts of Skipton town centre, before visiting the new Eller Beck Dam, next to Skipton Golf Club on the edge of the town.
The new flood alleviation scheme protects over 370 homes and 118 businesses in Skipton and paves the way for wider development of the South Skipton area, providing more land for homes, and the potential to create hundreds more jobs.
The spectacular scheme can store a total of 130 million gallons of water, equivalent to 230 Olympic-sized swimming pools.
Northern Powerhouse Minister, Jake Berry MP, said: "It's great to be here in Skipton to see how the £2.7m from the Local Growth Fund is supporting projects like Skipton Flood Alleviation Scheme, which will protect Skipton town centre from flooding and give much needed assurance to residents.
"We're committed to boosting economic growth not only locally but across the whole of the Northern Powerhouse to build a Britain fit for the future. Ensuring that homes and businesses are kept safe against extreme weather conditions like flooding is central to this."
Councillor Richard Foster, leader of Craven District Council, said: "I was delighted to welcome the Minister to Skipton and show him how much has been achieved in collaboration with our partners.
"This scheme helps provide great economic resilience for Craven – it protects local businesses and homes and allows for future development of employment land, unlocking areas which were previously flood plains.
"We are working hard with our partners on a number of employment and housing projects, with Growth Deal funding to upgrade Engine Shed Lane and connect Ings Lane to the bypass, improve pedestrian routes from Skipton railway station, and redevelop the area around the station, as well as further flood alleviation works.
"All this will help us to ensure that Craven remains an integral part of the Northern Powerhouse; a thriving place where families and young people choose to live and work."
The Environment Agency is the lead partner and main funder of the £17.8 million scheme alongside other funders including the York, North Yorkshire and East Riding Local Enterprise Partnership, the Leeds City Region Enterprise Partnership, West Yorkshire Combined Authority, DEFRA, North Yorkshire County and Craven District Councils, the Yorkshire Regional Flood and Coastal Committee and Yorkshire Water.
Adrian Gill, Area Flood Risk Manager at the Environment Agency, said: "Skipton is a town which knows the devastating impacts of flooding. We can never prevent all flooding, but we can reduce the risk of it happening and the damage if it does. This scheme will see hundreds of homes and businesses better protected for years to come.
"This scheme forms part of more than half a billion pounds' worth of government funding which we are investing across the whole of Yorkshire between 2015-2021 to reduce flood risk to nearly 60,000 properties."
Major structural work was undertaken to complete the scheme, which took two years to complete. This included the building of two flood storage reservoirs at Eller Beck and Waller Hill Beck and 300 metres of flood walls in Skipton town centre.
The area has been vulnerable to heavy rainfall in the past which has put homes and businesses at risk. The new storage areas will control the flow of water after a period of extreme weather and reduce the risk of flooding to the town centre and nearby areas.